Personal Safety
EFFECTIVE NOVEMBER 3, OFFICIALS IN BARBADOS WILL AMEND TRAVELER PROTOCOLS THAT FORM PART OF THE ISLAND'S CORONAVIRUS DISEASE (COVID-19) REOPENING PLAN. TRAVELERS WILL STILL FACE THE SAME PROTOCOLS BASED ON ANY COUNTRY'S RISK LEVEL THAT THEY HAD TRAVELED TO OR TRANSITIONED THROUGH WITHIN 21 DAYS BEFORE THEY ARRIVED IN BARBADOS. HOWEVER, FROM NOVEMBER 3, THE LIST OF HIGH - AND MEDIUM-RISK COUNTRY AND TERRITORY CLASSIFICATIONS WILL BE EXPANDED.  ALL TRAVELERS ARE REQUIRED TO WEAR FACEMASKS AT THE AIRPORT. HEALTH SCREENINGS AND QUARANTINE PROTOCOLS VARY FOR TRAVELERS, DEPENDING ON THE COUNTRY OF ORIGIN.
Note: this page contains basic risk information. For more details, please contact the Risk Services Office at risk@berkeley.edu.
If you are traveling to Barbados on University-related business, please sign up for the University's travel insurance program by going here. For more information on the travel insurance program, please go here.
Because everyone's health is unique, we suggest seeking the advice of a medical professional before traveling internationally. Members of the campus community interested in protecting their health while abroad may schedule an appointment with the University Health Services International Travel Clinic. 
Protests rarely occur in Barbados and seldom devolve into violence. Most demonstrations are related to labor disputes. Protests are most common in Bridgetown and occasionally cause minor transportation delays.
Crime generally poses a moderate threat in Barbados. Petty crime is an ever-present threat globally, but in Barbados, other criminal threats include armed robbery and rape. Criminal activity is most prevalent in Crab Hill, St. Lucy and the Ivy, and St. Michael.
The capabilities and responsiveness of security services in Barbados are generally good. Foreign nationals in Barbados should liaise with their local embassy to report crimes. Police officers are typically unable foreign languages. 
Barbados is generally economically, politically, and socially stable.   
Barbados is generally moderately impacted by regional developments such as economic shifts and environmental concerns, and its reliance upon the highly changeable tourism industry.
Barbados has poor medical infrastructure. This assessment is based on the number of available hospital beds, licensed and trained physicians and support staff, advanced diagnostic capabilities, and other global data. Underfunded systems, underpaid staff, and medical supply concerns challenge the medical infrastructure of Barbados.
Travelers and individuals planning for extended stay in Barbados should have health insurance that is valid and readily accepted. Cash payment is often required at the time services are rendered, and care may vary widely depending on location and facility. Additionally, medical evacuation insurance is strongly encouraged for any travel or assignment abroad, as costs for medical repatriation may be substantial.
Legal/Political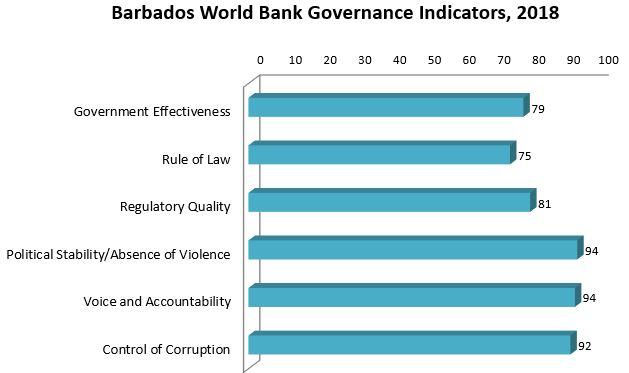 Criminal Penalties: You are subject to local laws. If you violate local laws, even unknowingly, you may be expelled, arrested, or imprisoned.
Penalties for possession, use, or trafficking in illegal drugs or firearms are severe. Convicted offenders can expect long jail sentences and heavy fines.
It is illegal, even for children, to wear camouflage clothing or carry items made with camouflage material.
Arrest Notification: If you are arrested or detained, ask police or prison officials to notify the U.S. Embassy immediately. 
Firearms: Do not enter Barbados with firearms or ammunition without prior express consent from the Barbados government. 
LGBTI Travelers: Same-sex sexual relations, even when consensual, are criminalized in Barbados. Although this law is rarely enforced, potential penalties include life imprisonment.