Personal Safety
AS OF NOVEMBER 2, AUTHORITIES IN GUYANA WILL ENFORCE A 2230-0400 CURFEW NATIONWIDE THROUGH NOVEMBER 30 AS A PART OF ONGOING EFFORTS TO CURB THE SPREAD OF CORONAVIRUS DISEASE (COVID-19). SPECIAL MEASURES WILL ALSO BE ENFORCED IN BARIMA-WAINI (REGION 1) AND UPPER TAKUTU-UPPER ESSEQUIBO (REGION 9) THROUGH AT LEAST NOVEMBER 30.  AUTHORITIES WILL RESTRICT ALL UNATHORIZED TRAVEL IN AND OUT OF THESE AFFECTED REGIONS. INDIVIDUALS ARE REQUIRED TO WEAR A FACEMASK IN PUBLIC SPACES. AUTHORITIES PREVIOUSLY REOPENED CHEDDI JAGAN INTERNATIONAL (GEO) AND EUGENE CORREIA INTERNATIONAL (OGL) AIRPORTS TO INTERNATIONAL COMMERCIAL FLIGHTS FOLLOWING AN EXTENDED CLOSURE IN MARCH. PERSON ENTERING GUYANA BY AIR WILL BE REQUIRED TO PRESENT A NEGATIVE PCR TEST TAKEN UP TO SEVEN DAYS BEFORE TRAVEL.  TESTS TAKEN UP TO 72 HOURS BEFORE TRAVEL: TRAVELERS WILL BE SUBJECT TO ADDITIONAL HEALTH SCREENINGS AT THE AIRPORT, INCLUDING TEMPERATURE CHECKS, HOWEVER, THERE WILL BE NO REQUIREMENTS FOR FURTHER TESTING.  TESTS TAKEN 4-7 DAYS BEFORE TRAVEL: TRAVELERS WILL BE SUBJECT TO ADDTIONAL HEALTH SCREENINGS AT THE AIRPORT INCLUDING TEMPERATURE CHECKS, AS WELL AS A SECOND COVID-19 TEST ON ARRIVAL AT THE TRAVELER'S EXPENSE. PERSONS WHO TEST POSITIVE MAY BE SUBJECT TO QUARANTINE PROTOCOLS AT THE DISCRETION OF THE HEALTH OFFICIALS. AUTHORITIES COULD REIMPOSE, EXTEND, FURTHER EASE, OR OTHERWISE AMEND ANY RESTRICTIONS WITH LITTLE TO NO NOTICE DEPENDING ON DISEASE ACTIVITY OVER THE COMING WEEKS. AUTHORITIES COULD IMPOSE HIGHLY TARGETED LOCALIZED MEASURES IN SOME COMMUNITIES IN RESPONSE TO INCREASED ACTIVITY. 
Note: this page contains basic risk information. For more details, please contact the Risk Services Office at risk@berkeley.edu.
If you are traveling to Guyana on University-related business, please sign up for the University's travel insurance program by going here. For more information on the travel insurance program, please go here.
Because everyone's health is unique, we suggest seeking the advice of a medical professional before traveling internationally. Members of the campus community interested in protecting their health while abroad may schedule an appointment with the University Health Services International Travel.
The threat of civil unrest in Guyana is moderate.  Protests occasionally occur in Guyana and sometimes devolve into violence. Most demonstrations are related to labor disputes, government regulations, economic conditions, or political developments, such as elections. Violent protests tend to be more associated with political campaigns and elections. Protests are most common in Georgetown and occasionally cause minor transportation delays.
Criminal activity is most prevalent in Georgetown and along the Atlantic Coast. The interior part of the country lacks policing and infrastructure, and crimes are underreported.  Nonviolent crime poses a moderate threat to foreign nationals, expatriates, and local staff and is concentrated in Georgetown and along the Atlantic coast. In Georgetown, there is a high risk of theft and robbery in the Stabroek and Bourda markets, and some neighborhoods surrounding the Promenade Gardens. Thieves typically target purses, bags, wallets, smartphones, and other electronic devices. Most crime involving foreigners occurs at tourist attractions, shopping centers, public transportation hubs and areas near hotels. Foreign nationals may be targeted due to their perceived wealth or because they appear unfamiliar with the area. Crimes against foreigners and locals are more likely to occur after dark. 
Scams pose a low threat to foreign nationals, expatriates, and local staff in Guyana. However, official data is unreliable due to underreporting and poor government recordkeeping. 
Overall, the threat of violent crime in Guyana is moderate-to-high; however, foreign nationals are rarely targeted by criminals. Violent crime, including carjacking, homicide, rape, and assault, poses a higher threat to locals than foreigners. In Georgetown, violent crime tends to be concentrated in low-income areas, such as Sophia, Agricola, Buxton, Tiger Bay, and Eccles, due to the gang activity that occurs in these communities. Interior parts of the country are significantly underdeveloped and lack policing; drug trafficking is common along the Venezuelan and Surinamese borders. Criminals in Guyana do not hesitate to use force if a victim resists; do not resist.
Organized crime does not usually affect foreign nationals or expats in Guyana. South American drug trafficking organizations (DTO) are present in the country, especially in Georgetown and border areas. Street gangs operate in Georgetown. These organizations specialize in drug dealing, human trafficking, black market sales, and extortion. 
Gender-based violence and/or discrimination poses a low threat to foreign nationals and expatriates in Guyana; however, there is a high level of domestic violence, which may have a greater impact on local employees. Verbal and sexual harassment affect locals more than foreigners and expatriates. Women walking alone are often verbally harassed; the threat of a physical attack is much lower than a verbal one, but assault cannot be ruled out, especially at night and in isolated areas. 
Anti-LGBT violence does not systemically occur in Guyana; however, same-sex couples may attract stares and vulgar comments in rural and underdeveloped communities. 
Highway robbery and banditry pose a low-to-moderate threat in Guyana. The threat is highest on rural highways in the interior and near international borders.
Legal/Political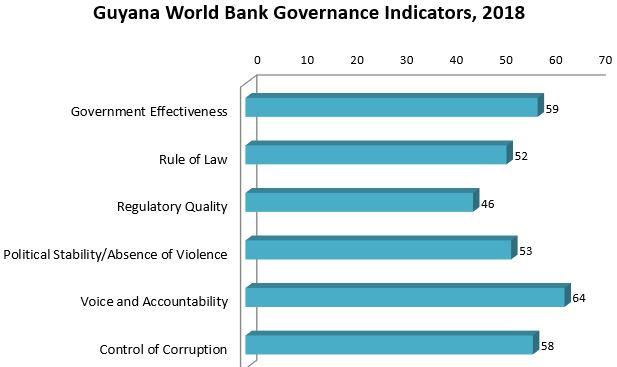 Criminal Penalties: You are subject to local laws. If you violate local laws, even unknowingly, you may be expelled, arrested, or imprisoned. Furthermore, some laws are also prosecutable in the United States, regardless of local law.
Arrest Notification: If you are arrested or detained, ask police or prison officials to notify the U.S. Embassy immediately.
LGBTI Travelers: Consensual same-sex sexual relations between men are criminalized in Guyana. It is not uncommon for local police to use the law to intimidate men known or perceived to be gay. There are no laws concerning same-sex sexual relations between women.
There is no legal protection from discrimination on the grounds of sexual orientation or gender identity under Guyanese law.