Personal Safety
AUTHORITIES IN LITHUANIA PLAN TO TIGHTEN CERTAIN OF THE COUNTRY'S CORONAVIRUS DISEASE (COVID-19) RELATED DOMESTIC RESTRICTIONS DUE TO AN INCREASE IN INFECTION RATES.  MOST CITIZENS AND RESIDENTS OF OTHER COUNTRIES REMAIN BARRED FROM ENTERING LITHUANIA, WITH ONLY LIMITED EXCEPTIONS. ALL INDIVIDUALS ARRIVING IN LITHUANIA VIA PUBLIC OR PRIVATE TRANSPORT MUST REGISTER ONLINE WITH THE NATIONAL PUBLIC HEALTH CENTRE (NVSC) AT LEAST 24 HOURS BEFORE ARRIVAL; THIS DOES NOT APPLY TO PERSONS TRANSITING BY AIR AND REMAINING AIRSIDE FOR DURATION OF THEIR LAYOVERS. NATIONWIDE, MANY NONESSENTIAL BUSINESSES HAVE REPOPENED, PROVIDED THEY IMPLEMENT STRICT HYGIENE AND SOCIAL DISTANCING REQUIREMENTS AUTHORITIES CONTINUE TO ENCOURAGE REMOTE WORKING WHEN POSSIBLE. AUTHORITIES COULD REIMPOSE, EXTEND, FURTHER EASE, OR OTHERWISE AMEND ANY RESTRICTIONS WITH LITTLE TO NO NOTICE DEPENDING ON DISEASE ACTIVITY OVER THE COMING WEEKS.
Note: this page contains basic risk information. For more details, please contact the Risk Services Office at risk@berkeley.edu.
If you are traveling to Lithuania on University-related business, please sign up for the University's travel insurance program by going here. For more information on the travel insurance program, please go here.
Because everyone's health is unique, we suggest seeking the advice of a medical professional before traveling internationally. Members of the campus community interested in protecting their health while abroad may schedule an appointment with the University Health Services International Travel.
The threat of civil unrest in Lithuania is low.  Protests rarely occur in Lithuania and seldom devolve into violence. Most demonstrations are related to economic conditions or social issues. Protests are most common in Vilnius and occasionally cause minor transportation delays.
Crime generally poses a low threat in Lithuania.  In the capital city of Vilnius, criminal activity is most prevalent in the Old Town and other crowded areas. 
Nonviolent crime poses a moderate threat to foreign nationals and is concentrated in tourist areas. Thieves typically target cameras, phones, bags, bicycles, and wallets. These opportunistic crimes can occur anywhere, but especially at major tourist attractions. Foreign nationals are typically targeted by criminals when the opportunity is right or when they are displaying obvious signs of wealth. 
Crimes against foreign nationals are more likely to escalate late at night. Criminals often act in groups of two or three. 
Scams pose a low threat to foreign nationals in Lithuania. Scams often occur in bars and clubs in Vilnius where foreign nationals are overcharged for drinks, food, or service. The situation can sometimes lead to confrontations and violence. 
Overall, the threat of violent crime in Lithuania is low; foreign nationals are rarely targeted by criminals. Violent crime, including assault, poses the greatest threat at night involving intoxicated persons. Foreign nationals returning from bars to their hotels are often targeted late at night. 
Gender-based violence and discrimination poses a low threat to foreign nationals in Lithuania. Anti-LGBT violence does not systemically occur in Lithuania. However, lesbian, gay, bisexual, and transgender (LGBT) values are not widely accepted. 
Legal/Political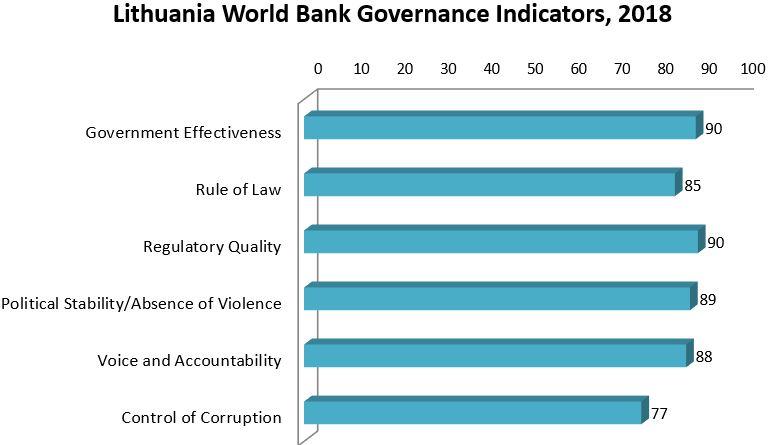 Criminal Penalties: You are subject to local laws. If you violate local laws, even unknowingly, you may be expelled, arrested, or imprisoned. Furthermore, some laws are also prosecutable in the U.S., regardless of local law. 
Arrest Notification: If you are arrested or detained, ask police or prison officials to notify the U.S. Embassy immediately. 
Penalties for possession, use, or trafficking in illegal drugs in Lithuania are severe. Convicted offenders can expect long jail sentences and heavy fines.
Driving while intoxicated is a very serious offense and carries heavy penalties.
Lithuanian customs regulations are strict for the temporary importation or export of firearms and antiquities.
LGBTI Travelers: The LGBTI community is protected by anti-discrimination laws. However, members of the LGBTI community have experienced verbal and sometimes physical harassment.