Personal Safety
AUTHORITIES IN NORTH MACEDONIA ARE TIGHTENING CERTAIN CORONAVIRUS DISEASE (COVID-19) RELATED RESTRICTIONS DUE TO AN INCREASE IN INFECTION RATES.  OFFICIALS HAD OPENED THE COUNTRY'S LAND BORDERS AND PERMITTED INTERNATIONAL FLIGHTS TO RESUME, AND MOST BUSINESSES AND FACILITIES ARE PERMITTED TO RESUME OPERATIONS PROVIDED THEY IMPLEMENT CERTAIN HYGIENE AND SOCIAL DISTANCING MEASURES.   AUTHORITIES COULD EXTEND, EASE, OR OTHERWISE AMEND ANY RESTRICTIONS WITH LITTLE TO NO NOTICE, DEPENDING ON DISEASE ACTIVITY OVER THE COMING WEEKS.
Note: this page contains basic risk information. For more details, please contact the Risk Services Office at risk@berkeley.edu. 
If you are traveling to Macedonia on University-related business, please sign up for the University's travel insurance program by going here. For more information on the travel insurance program, please go here. 
Because everyone's health is unique, we suggest seeking the advice of a medical professional before traveling internationally. Members of the campus community interested in protecting their health while abroad may schedule an appointment with the University Health Services International Travel Clinic.
The overall threat of terrorism in Macedonia is low.  The threat of terrorism is low in Macedonia. Authorities have recently maintained steady ratings based on an official national terror threat level system. Foreign governments have/have not issued warnings regarding terror threats in country. No specific threats exist, though Macedonia must currently be considered a potential target. 
Islamist extremists - both radicalized locals and foreign nationals - likely pose the greatest threat to Macedonia. While major terror-related incidents in the country have not occurred, plots by so-called "lone-wolves" against soft targets cannot be ruled out. Islamist extremist groups reportedly see Macedonia as a source of potential recruits. 
Nationalist groups operate in Macedonia and have carried out attacks. Such groups typically target government or security force personnel and facilities. Common tactics employed in such attacks include crude bombings and armed assaults. 
Macedonia is a multiparty parliamentary republic in which elections take place every four years under normal conditions. The current administration is adequately stable, though the political situation has been volatile through 2016 as a change in government took place in the wake of corruption scandals encompassing the previous administration. Current challenges faced by the administration are typical for the region: social and economic reform, immigration (as the country is situated in the "Balkan Route" used by migrants and refugees to enter Europe), and regional ethnic tensions between Macedonians and the large Albanian minority all of which could become destabilizing for Macedonian administration. Macedonia is the only republic in the former Yugoslavia which does not have border disputes with its neighbors, however ongoing disagreements with Greece over the Macedonian state's name have had adverse effects for Macedonia with regards to integrating further with the West, a challenge which does make international geopolitical instability more possible, though still unlikely in the short to medium-term.
Legal/Political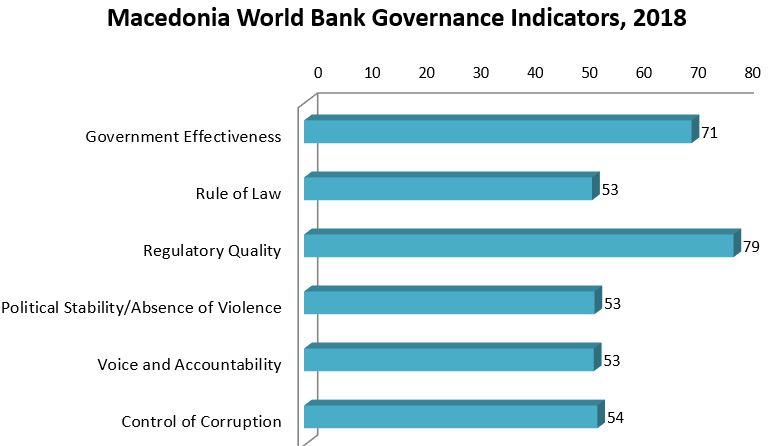 Criminal Penalties: You are subject to local laws. If you violate local laws, even unknowingly, you may be expelled, arrested, or imprisoned. Individuals establishing a business or practicing a profession that requires additional permits or licensing should seek information from the competent local authorities, prior to practicing or operating a business. Furthermore, some laws are also prosecutable in the U.S., regardless of local law. 
Arrest Notification: If you are arrested or detained, ask police or prison officials to notify the U.S. Embassy immediately. See our webpage for further information.
North Macedonia's customs authorities enforce strict regulations that require special licenses or permits for the exportation of items deemed to be of historical value or significance. Taking such items out of North Macedonia without the appropriate government-issued permit can result in arrest, monetary fines, and prison sentences.
Taking photographs of anything that could be perceived as having military or security interest may result in problems with authorities. Visitors should comply with "no photography" signs. If you are in doubt, ask for permission before taking photographs.
While larger stores and restaurants accept credit cards, it is recommend to have cash in local currency (denar) for purchases in small establishments.
Failure to declare currency exceeding 10,000 euros, or the equivalent, may result in its confiscation and a court proceeding. Penalties typically include a fine and a percentage of the undeclared amount.
LGBTI Travelers: There are no legal restrictions on same-sex sexual relations or the organization of LGBTI events in North Macedonia. Vandals attacked an LGBTI center several times in the last five years, and in June 2019, a prominent activist for the rights of LGBTI people was chased, pulled from a car, and violently assaulted in Skopje. We advise exercising caution when attending LGBTI events.