Personal Safety
AS OF NOVEMBER 10, AUTHORITIES IN MAURITANIA HAVE MAINTAINED MINIMAL RESTRICTIONS FOLLOWING THE SPREAD OF CORONAVIRUS DISEASE (COVID-19) IN THE COUNTRY. THE STATUS OF INTERNATIONAL LAND BORDERS IS CURRENTLY UNCLEAR; HOWEVER, FREIGHT TRAVEL REMAINS PERMITTED AT SEVERAL BORDER BUT IS SUBJECT TO ENHANCED INSPECTIONS. TRAVELERS TO MAURITANIA MUST PRESENT EVIDENCE OF A NEGATIVE COVID-19 PCR TEST, DATED 72-120 HOURS BEFORE ARRIVAL. TRAVELERS ARRIVING ALSO FACE SCREENING MEASURES AND POSSIBLE QUARANTINE AT A STATE HEALTH FACILITY IF DISPLAYING SYMPTOMS OF THE DISEASE. MINIMAL DOMESTIC RESTRICTIONS REMAIN IN PLACE FOLLOWING THE EASING OF MEASURES IN JULY; THE USE OF PROTECTIVE FACEMASKS IN COMPULSORY IN ALL PUBLIC SPACES AND PUBLIC TRANSPORTATION, ALTHOUGH THIS MEASURE IS NOT ENFORCED.
Note: this page contains basic risk information. For more details, please contact the Risk Services Office at risk@berkeley.edu. 
If you are traveling to Mauritania on University-related business, please sign up for the University's travel insurance program by going here. For more information on the travel insurance program, please go here. 
Because everyone's health is unique, we suggest seeking the advice of a medical professional before traveling internationally. Members of the campus community interested in protecting their health while abroad may schedule an appointment with the University Health Services International Travel Clinic.   
The geopolitical threat is high in Mauritania. The country has seen frequent changes of government, including coups in 2005 and 2008. Since gaining independence from France in 1960, Mauritania has experienced lengthy periods of authoritarian one-party rule, military dictatorship, and sporadic military takeovers. Mauritanian society also remains deeply divided along ethnic lines. The "Bidan" Moors (or Maurs) of Arab-Berber descent comprise the social and political elite and dominate both the 'Haratin' Moors of mixed Arab-African descent and the black African peoples of the Senegal River valley. There are also increasing divisions along tribal and clan lines within these groupings. Tribal and clan factionalism has led to violence and conflict in the past and has the potential to do so again. All of these concerns, combined with inherent tensions between the old political elite and the forces of democratic reform, have the potential to trigger further political instability at relatively short notice. Mauritania has high levels of corruption. 
The capabilities and responsiveness of security services in Mauritania are generally poor (risk is high). Although Mauritania has a number of different security forces, the police are likely to be the most relevant for foreign nationals and local staff. Police officers are typically able to speak a dialect of Arabic, and some limited French-language ability is possible. Petty bribery by police is common, particularly at roadblocks in the capital and at checkpoints between cities. Security officers are alleged to use excessive force to disperse demonstrations. In Mauritania, foreign nationals should not rely on security forces and should instead liaise with their diplomatic mission.
Legal/Political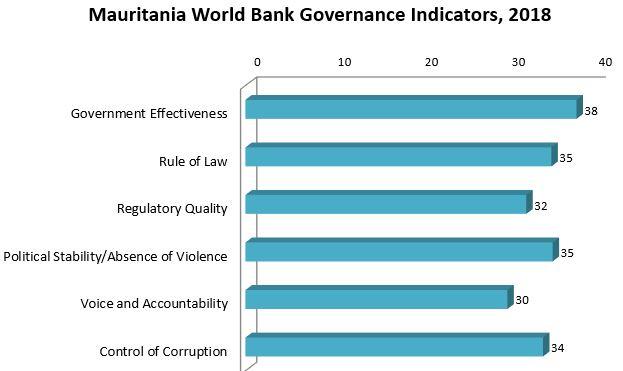 Criminal Penalties: While traveling in Mauritania, you are subject to its laws even if you are a U.S. citizen. If you break local laws in Mauritania, your U.S. passport won't help you avoid arrest or prosecution. It's very important to know what's legal and what's not where you are going.
Arrest Notification: If you are arrested or detained, ask police or prison officials to notify the U.S. Embassy immediately. 
Religious norms: Islamic ideals and beliefs in Mauritania encourage conservative dress and behavior. Mauritania recognizes Islam as the sole religion of its citizens and the state. Religious freedom is restricted and affronts against Islamic modesty and morals carry penalties which range from fines to the death penalty. Participation in Christian gatherings and activities that have not been authorized by the Mauritanian government is illegal. Apostasy is punishable by death. Proselytizing in Mauritania is illegal and may lead to deportation, arrest, prosecution, or incarceration.
Importation of alcohol and pork: Passengers caught attempting to bring alcoholic drinks or pork products into Nouakchott International Airport, including alcohol bought duty free on an inbound flight, may be subject to immediate fines, confiscation, and/or incarceration.
Interactions with Police: Persons of Black African appearance may be subject to prejudicial treatment by the Mauritanian authorities. If you are detained or arrested by the Mauritanian authorities, insist to be put in contact with the U.S. Embassy so that we may assist you.
LGBTI Travelers: There are no laws that protect lesbian, gay, bisexual, transgender, and intersex (LGBTI) persons from discrimination. Under Mauritanian law, consensual same-sex sexual activity between men is punishable by death, and such activity between women is punishable by three months to two years in prison and a monetary fine. There are no organizations advocating for sexual orientation or gender-identity rights in the country.