Personal Safety
AS OF NOVEMBER 12, AUTHORITIES IN MAURITIUS HAVE MAINTAINED EASED TRAVEL RESTRICTIONS, WHICH CAME INTO EFFECT OCTOBER 1. A PHASED REOPENING OF THE COUNTRY'S BORDERS IS UNDERWAY. PHASE 2 OF THE COUNTRY'S THREE PHASE REOPENING PLAN, MAURITIAN NATIONALS, RESIDENTS WITH A PERMIT, INDIVIDUALS WORKING IN MAURITIUS, AND LONG TERM TOURIST FROM APPROVED COUNTRIES HAVE BEEN ALLOWED TO ENTER MAURITIUS SINCE OCTOBER 1. TRAVELERS TO MAURITIUS WILL NEED TO PRESENT A NEGATIVE COVID-19 TEST TAKEN NO MORE THAN SEVEN DAYS BEFORE ARRIVAL IN THE COUNTRY. TRAVELERS WILL BE QUARANTINED FOR AT LEAST 14 DAYS AT A GOVERNMENT APPROVED HOTEL. TRAVELERS ARRIVING IN THE COUNTRY WILL ALSO NEED TO TAKE AT LEAST THREE TESTS, INCLUDING ONE ON ARRIVAL, ANOTHER ON DAY SEVEN, AND A FINAL TEST ON DAY 14. TRAVELERS WHO TEST POSITIVE WILL BE TRANSFERRED TO A GOVERNMENT RUN MEDICAL FACILIT. ALL TRAVEL BOOKINGS WILL BE CENTRALIZED AT THE MAURITIUS TOURISM PROMOTION AUTHORITY (MTPA) WEBSITE. 
Note: this page contains basic risk information. For more details, please contact the Risk Services Office at risk@berkeley.edu. 
If you are traveling to Mauritius on University-related business, please sign up for the University's travel insurance program by going here. For more information on the travel insurance program, please go here.
Because everyone's health is unique, we suggest seeking the advice of a medical professional before traveling internationally. Members of the campus community interested in protecting their health while abroad may schedule an appointment with the University Health Services International Travel Clinic.   
The geopolitical threat is low in Mauritius. The country is a well-established democracy, with an independent judiciary and media, a vibrant political culture, a wide range of political parties, and an active Parliament. Transfers of power have been generally peaceful. None of Mauritius' neighbors pose an immediate threat to its security. Mauritius has medium levels of corruption. 
The capabilities and responsiveness of security services in Mauritius are generally adequate (risk is low). Although Mauritius has a number of different security forces, the tourist police are likely to be the most relevant for foreign nationals, while resident foreign nationals (expatriates) typically interact with the crime prevention unit. Police officers are typically able to speak foreign languages such as English and French.
The threat of civil unrest in Mauritius is low. Protests occasionally occur in Mauritius, but seldom devolve into violence. Most demonstrations are related to economic conditions, or religious or social issues. Protests are most common between unlicensed street vendors and the police in Port Louis. These protests occasionally cause minor transportation delays. Displaced indigenous people from the British Indian Ocean Territory, which includes Diego Garcia, known as "Chagossians," conduct occasional demonstrations directed against the Mauritian government and the British High Commission.
Legal/Political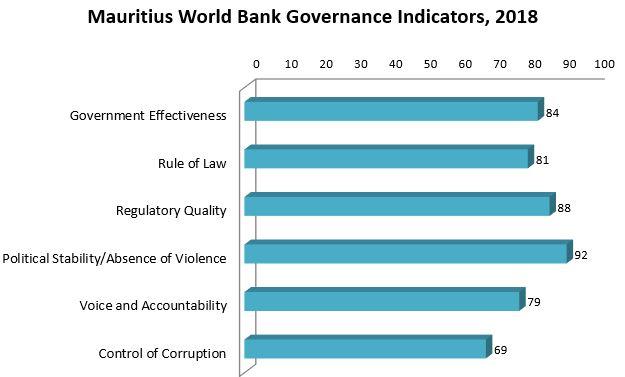 Criminal Penalties: You are subject to local laws. If you violate local laws, even unknowingly, you may be expelled, arrested, or imprisoned. Convictions for possessing, using, or trafficking in illegal drugs result in prison sentences up to 35 years and heavy fines.  Furthermore, some laws are also prosecutable in the United States, regardless of local law. 
Arrest Notification: If you are arrested or detained, ask police or prison officials to notify the U.S. Embassy immediately. 
LGBTI Travelers: While the law does not specifically criminalize consensual same-sex sexual activity, lesbian, gay, bisexual, and transgender individuals may face societal discrimination, harassment, and abuse by families, neighbors, and police. Sodomy is a criminal offense among both same-sex and heterosexual couples, with penalties up to five years' imprisonment.