Personal Safety
AUTHORITIES IN MOLDOVA ARE MAINTAINING THEIR CURRENT MEASURES INTRODUCED TO COMBAT THE SPREAD OF CORONAVIRUS DISEASE (COVID-19). ON OCTOBER 1, OFFICIAL INTRODUCED LOCALIZED RESTRICTIONS, ASSIGNING ADMINISTRAIVE TERRITORIAL UNITS A RATING ON A FOUR TIER SCALE BASED ON COVID-19 INFECTION PER 100,000 INHABITANTS OVER THE PREVIOUS 14 DAYS. MOLDOVAN AUTHORITIES DESIGNATE ALL COUNTRIES WITH COVID-19 INFECTION RATES OF OVER 100 PER 100,000 POPULATON AS "RED" OR HIGH RISK LOCATIONS.  MOST TRAVELERS FROM "RED" LOCATIONS ARE PROHIBITED FROM ENTERING MOLDOVA, EXCLUDING MOLDOVAN CITIZENS AND RESIDENTS AND THEIR IMMEDIATE FAMILY MEMBERS, INDIVIDUALS WITH A WORK OR STUDY PERMIT FOR MOLDOVA, INDIVIDUALS IN TRANSIT AND INDIVIDUALS TRAVELING FOR URGENT REASONS.  ALL PERMITTED ARRIVALS FROM RED COUNTRIES MUST SELF-ISOLATE FOR 14 DAYS UPON ARRIVAL. INDIVIDUALS TRAVELING FROM COUNTRIES DESIGNATED AS "GREEN" OR LOW RISK LOCATIONS, DO NOT HAVE TO SELF-ISOLATE UPON ARRIVAL. AS OF NOVEMBER 9, 66 COUNTRIES ARE DESIGNATED AS "RED" LOCATIONS INCLUDING, ROMANIA, UKRAINE, RUSSIA, HUNGARY, NORTH MACEDONIA, FRANCE, SPAIN, THE UK AND THE US. THE FULL LIST CAN BE FOUND ON THE MINISTRY OF HEALTH WEBSITE. AUTHORITIES COULD REIMPOSE, EXTEND, FURTHER EASE, OR OTHERWISE AMEND ANY RESTRICTIONS WITH LITTLE TO NO NOTICE DEPENDING ON DISEASE ACTIVITY.
Note: this page contains basic risk information. For more details, please contact the Risk Services Office at risk@berkeley.edu. 
If you are traveling to Moldova on University-related business, please sign up for the University's travel insurance program by going here. For more information on the travel insurance program, please go here.
Because everyone's health is unique, we suggest seeking the advice of a medical professional before traveling internationally. Members of the campus community interested in protecting their health while abroad may schedule an appointment with the University Health Services International Travel Clinic.   
The geopolitical threat is moderate in Moldova. Moldova is a semi-presidential republic in which in which presidential and parliamentary elections take place every four years. The current administration is adequately stable, though allegations of corruption and a resultant likely economic fallout engender large scale protest against the government which could prove destabilizing in the short to medium-term. Other geopolitical challenges faced by Moldova include the growing pro-Russia sentiment in the electorate and the break away Transnistria region along the border with Ukraine which Moldova is unable to administer, this problem is compounded by mutual support between Transnistria and Russia. These challenges could affect the geopolitical situation in Moldova in the medium to long-term.  
The capabilities and responsiveness of security services in Moldova are generally adequate (risk is moderate). Although Moldova has a number of different security forces, the Moldovan police force is likely to be the most relevant for foreign nationals and local staff. Police officers are typically able to speak some foreign languages, including Russian and Romanian.
Legal/Political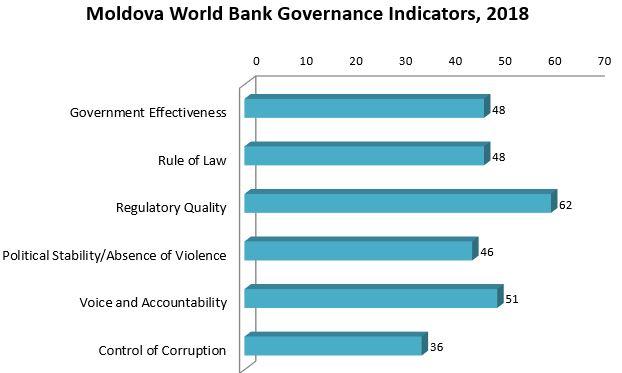 Criminal Penalties: You are subject to local laws. If you violate local laws, even unknowingly, you may be expelled, arrested, or imprisoned.  Furthermore, some laws are also prosecutable in the U.S., regardless of local law. 
Arrest Notification: If you are arrested or detained, ask police or prison officials to notify the U.S. Embassy immediately. 
If you are arrested, you can face extended periods, even years, in pre-trial detention.
Penalties for possessing, using, or trafficking illegal drugs are severe, and if convicted, you can expect long jail sentences and heavy fines.
You should register large sums of foreign currency (equivalent of 10,000 Euros and above) and declare all valuable goods with Moldovan customs authorities when you arrive in Moldova. Failure to do so can result in confiscation, fines, and/or arrest.
LGBTI Travelers: There are no legal restrictions on same-sex sexual relations or the organization of LGBTI events in Moldova. However, traditional cultural attitudes towards LGBTI individuals may result in discrimination and harassment.