Personal Safety
AS PART OF ONGOING EFFORTS TO LIMIT THE SPREAD OF CORONAVIRUS DISEASE (COVID-19), AUTHORITIES IN MOROCCO WILL EXTEND EXISTING RESTRICTIONS IN THE CASBLANCA-SETATTA REGION, AS WELL AS IN THE PROVINCES OF MEDIOUNA AND NOUACEUR THROUGH AT LEAST DECEMBER 22. INTERNATIONAL PASSENGER FLIGHTS REMAIN SUSPENDED UNTIL FURTHER NOTICE; HOWEVER, SOME AIRLINES OPERATE LIMITED REPATRIATION AND CHARTER FLIGHTS. EMERGENCY AND CARGO FLIGHTS ARE EXEMPT. THE BORDER WITH THE SPANISH AUTONOMOUS CITIES OF CEUTA AND MELILLA, LOCATED ON THE NORTHERN COAST OF AFRICA, IS CLOSED UNTIL FURTHER NOTICE. AUTHORITIES COULD FURTHER EASE RESTRICTIONS OR INTRODUCE ADDITIONAL PREVENTATIVE MEASURES, DEPENDING ON THE EVOLUTION OF DISEASE ACTIVITY IN THE COMING DAYS AND WEEKS.
Note: this page contains basic risk information. For more details, please contact the Risk Services Office at risk@berkeley.edu. 
If you are traveling to Morocco on University-related business, please sign up for the University's travel insurance program by going here. For more information on the travel insurance program, please go here.
Because everyone's health is unique, we suggest seeking the advice of a medical professional before traveling internationally. Members of the campus community interested in protecting their health while abroad may schedule an appointment with the University Health Services International Travel Clinic.  
Morocco is generally economically, politically, and socially stable and is typically moderately impacted by regional developments, such as the Israeli-Palestinian Conflict. The geopolitical threat in Morocco is moderate. Morocco is a parliamentary constitutional monarchy, with King Mohammed VI as head of state. The king appoints the governors of the country's 16 administrative regions, the prime minister and cabinet ministers, and has the power to dissolve the legislature. The legislature, which has limited powers, is divided into a lower and upper chamber. The members of these chambers are elected by popular vote; however, political parties in the country are weak and most support the king and the current political system. 
Morocco continues to face challenges that may affect the country's outlook in the near term. Economic concerns, including high levels of poverty and unemployment, fuel anti-government and anti-monarchy sentiment among many Moroccans, triggering large-scale demonstrations at times. Ongoing tensions with neighboring Algeria and the Polisario Front over the disputed Western Sahara territory remain a concern. Algeria supports the Polisario Front in its goal to gain independence for the Western Sahara territory, although this support has strained ties between the two countries and has led to the closure of the shared border.
Crime generally poses a moderate threat in Morocco. Petty crime is an ever-present threat globally, but in Morocco, other criminal threats include scams and gender-related violence. Criminal activity is most prevalent in tourist locations, on public transportation, and in crowded areas. The trustworthiness, capabilities, and responsiveness of security services in Morocco are generally adequate (risk is moderate). Police officers are typically able to speak foreign languages. The prevalence of violent demonstrations in Morocco is moderate. The prevalence of anti-foreign sentiment is minimal. Potentially dangerous protests and endemic civil strife are most common in the disadvantaged Rif region, but potentially dangerous protests sometimes affect Rabat and Casablanca. 
The threat of terrorism is moderate in Morocco. Known but nonspecific threats exist, and Morocco must currently be considered a potential target of Islamic State sympathizers and Al-Qaeda in the Islamic Maghreb. 
For most foreign nationals, the threat of kidnapping in Morocco is generally low; kidnappers are more likely to targets locals for sexual assault. Victims face the threat of injury or death. 
Legal/Political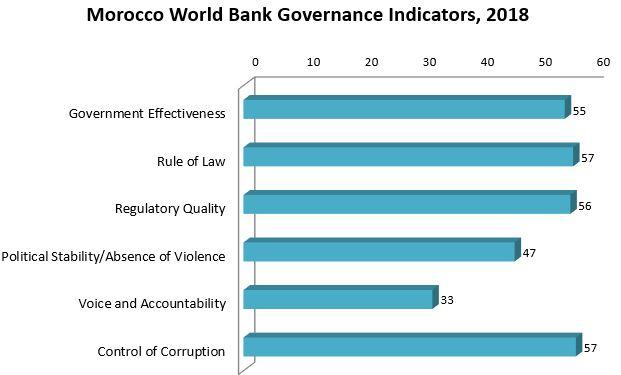 Criminal Penalties: You are subject to local laws. If you violate local laws, even unknowingly, you may be expelled, arrested, or imprisoned. In some places you may be taken in for questioning if you don't have your passport with you. Furthermore, some laws are also prosecutable in the U.S., regardless of local law. 
Arrest Notification: If you are arrested or detained, ask police or prison officials to notify the U.S. Consulate immediately. 
Crimes of fraud, including passing bad checks, non-payment of bills (including hotel bills), or breach of contract are considered serious in Morocco and can often result in imprisonment and/or fines.
Bail generally is not available to non-residents of Morocco who are arrested for crimes involving fraud.
Debtors can be held in prison until their debts are paid or until an agreement is reached between the parties. 
Passports may be seized by the Moroccan government to guarantee that debtors settle their cases. 
Debtors may be unable to work in Morocco without passports while still being held responsible for their debts. 
Prior to entering into a contract, you may want to consider consulting an attorney.
GBTI Travelers: Consensual same-sex sexual relations are criminalized in Morocco. Penalties include fines and jail time.