Personal Safety
PRESIDENT FILIPE NYUSI ANNOUNCED SEPTEMBER 4 THAT A CORONAVIRUS DISEASE (COVID-19) RELATED STATE OF EMERGENCY, DUE TO EXPIRE SEPTEMBER 6 WOULD BE REPLACED WITH A STATE OF CALAMITY FOR AN INDEFINITE PERIOD, FROM SEPTEMBER 7. THE RELAXATION OF THE STATE OF EMERGENCY, WHICH COMPLEMENTS AN ONGOING THREE-PHASE APPROACH TO RESUMING SOCIAL AND ECONOMIC ACTIVITY (AUGUST 18-OCTOBER 1), IS REPORTEDLY IN RESPONSE TO A DECREASING RATE OF COVID-19 INFECTIONS. THE NUMBER OF AVAILABLE FLIGHTS, AT LEAST INITIALLY, IS LIKELY TO REMAIN LIMITED. CROSS-LAND BORDER MOVEMENT MAY ALSO BE LIMITED, AT LEAST INITIALLY, IN RESPONSE TO COVID-19 TRAVEL RESTRICTIONS IMPOSED BY NEIGHBORING COUNTRIES, INCLUDING SOUTH AFRICA. DETAIL ON LIKELY HEALTH SCREENING MEASURES AT PORTS OF ENTRY REMAIN UNCLEAR. PREVIOUSLY, TRAVELERS WERE REQUIRED TO OBTAIN A NEGATIVE COVID-19 TEST THAT IS NO OLDER THAN 72 HOURS BEFORE ARRIVAL. ALL ARRIVALS WERE ALSO MANDATED TO COMPLETE A 10 DAY SELF QUARANTINE OR SELF QUARATINE FOR 14 DAYS WITHOUT A TEST.  IT IS LIKELY THAT THESE MEASURES MAY REMAIN IN FORCE INITIALLY AND THEN BE AMENDED IN THE COMING WEEKS. FACEMASKS ARE MANDATORY EXCEPT WHEN CONDUCTING PHYSICAL ACTIVITIES OR FOR VALID MEDICAL REASONS. AUTHORITIES ARE LIKELY TO REGULARLY REVIEW AND UPDATE HEALTH SCREEING MEASURES AND RESTRICTION IN THE COMING WEEKS. AN INCREASE IN CASES COULD LEAD OFFICIALS TO INCREASE RESTRICTIONS, EITHER NATIONALLY OR IN SPECIFIC LOCATIONS WITHIN THE COUNTRY.
Note: this page contains basic risk information. For more details, please contact the Risk Services Office at risk@berkeley.edu. 
If you are traveling to Mozambique on University-related business, please sign up for the University's travel insurance program by going here. For more information on the travel insurance program, please go here.
Because everyone's health is unique, we suggest seeking the advice of a medical professional before traveling internationally. Members of the campus community interested in protecting their health while abroad may schedule an appointment with the University Health Services International Travel Clinic.  
The political threat level is considered moderate for Mozambique, with politics dominated by the ruling Mozambique Liberation Front (FRELIMO) and its wartime adversary, the Mozambican National Resistance (RENAMO), following the 1992 conclusion of the country's civil war. Tension between these traditional opponents is the main driver of political instability and potential further unrest in the country.
Recent election periods have been characterized by inflammatory rhetoric and a spike in low-level violence. In the run-up to the 2014 elections, RENAMO militants, led by now-deceased then opposition leader, Afonso Dhlakama, returned to their former rebel stronghold in the Gorongosa mountain range in Sofala Province. Several grievances were cited, including FRELIMO's alleged undermining of the democratic system and a failure to distribute the economic benefits of the country's coal and gas industries. The return to Gorongosa coincided with a spike in militant attacks in Sofala Province. Nonetheless, following several rounds of negotiations, elections were successfully held in October 2014; however, tensions have persisted between the rival parties as RENAMO officials maintain that FRELIMO, led by President Filipe Nyusi, has failed to implement the terms agreed upon prior to the election. Accordingly, RENAMO militants refused to vacate the Gorongosa base, as well as several other strongholds, from where they have orchestrated several attacks on military convoys and personnel in the Sofala, Manica, Inhambane, Tete, and Zambezia provinces, since early 2015. As a result, the government has conducted a number of offensives against RENAMO bases since mid-2015.
The latest confrontations, in addition to failures in addressing RENAMO grievances, could lead to a resumption of hostilities as the opposition group continues to use violence as a means of destabilizing the FRELIMO administration; however, recent developments related to a seven-day ceasefire agreement set in December 2016, which has since been extended indefinitely, would suggest a possible de-escalation in the incidence of attacks. The agreement affirms the provisional cessation of military hostilities across the country. Although low-level attacks and acts of intimidation by respective armed elements of RENAMO and FRELIMO are occasionally reported, parties have largely adhered to the ceasefire. RENAMO and FRELIMO are set to enter a renewed peace process in June, which is set to be signed in August in a bid dissipate tensions leading up to the Oct. 15 general elections.
The threat of kidnapping in Mozambique is moderate. The most common type of abduction in Mozambique is basic opportunistic kidnap-for-ransom. Organized crime has an extended history in Mozambique and kidnapping activity is closely tied to high levels of crime and police and institutional corruption; kidnap levels are highest in major urban centers, such as Maputo. Matola, Beira, and Nampula are periodically affected. Middle- to high-income business owners, members of the south Asian and Chinese communities, and persons of Portuguese descent are primarily targeted. Western visitors may also be affected. The majority of kidnappings are resolved through a ransom payment, and both local and foreign victims are seldom killed. Although the number of hostages killed by their captors is low, the potential for hostages to be injured or killed increases marginally in the event of a security force operation to gain their release.
Crime generally poses a high threat in Mozambique. Criminal activity is prevalent in both urban and rural locations, particularly in the capital, Maputo, and along Maputo's coastal roads (Avenida Marginal), Chissibuca, and the southern province of Inhambane. Nonviolent crime poses a moderate threat to foreign nationals, expatriates, and local staff and is widespread in Maputo, particularly along the Marginal south of the Southern Sun Hotel and Avenida Friedrich Engels, Rua Caracol and other isolated areas of Maputo. Despite coastal towns and resorts having more robust security services than cities, tourists have been robbed in the southern province of Inhambane and near the town of Chissibuca. Thieves typically target purses, bags, wallets, smartphones, and other electronic devices. These opportunistic crimes can occur anywhere, but especially at major tourist attractions, isolated beaches and picnic spots, on buses, in taxis or cars, in restaurants or bars, and outside of ATMs/banks. Foreign national are typically targeted by criminals due to their perceived wealth. Crimes against foreign nationals, expatriates, and local staff are more likely to escalate late at night or if the victim attempts to resist. Criminals often act alone or in groups.
Scams pose a moderate threat to foreign nationals in Mozambique. Individuals and organized crime groups typically perpetrate this crime, which may include impersonating police officers, credit/debit card cloning, use of counterfeit currency, identity theft, and other financial frauds. Travelers are often confronted with locals as soon as they cross the border offering a reasonable exchange rate, while skimming the number of notes exchanged. 
Overall, the threat of violent crime in Mozambique is high; criminals sometimes target foreign nationals. Violent crime, including sexual assault, kidnapping, assault, carjacking, robbery, and burglary poses the greatest threat in Maputo, Matola, Beira, between Boane and the Swaziland border crossing points of Namaacha and Goba, and coastal resorts in the Inhhambane province; this may be due to the deteriorating socio-economic conditions of the country. Criminals in Mozambique do not hesitate to use force if a victim resists; do not resist.
Gender-based violence and/or discrimination poses a moderate threat to foreign nationals, expatriates, and local staff in Mozambique. Anti-LGBT violence does not systemically occur in Mozambique. The government decriminalized homosexuality in its new penal code July 2015 removing the colonial era clause 'vices against nature,' activists claim the new code is a considerable victory. Although there are no legal restrictions against consensual same-sex relations, there are societal stigmatization and discrimination of LGBT persons; same-sex couples that publicly express affection may face harassment from locals.
Organized crime may affect foreign nationals in Mozambique. The porous borders, widespread poverty, and proximity to South African markets creates vulnerability to organized criminal elements. Narco-trafficking, human smuggling, and trade in illicit/endangered animal products represent a growing threat to security. The threat of kidnapping continues to persist throughout the country, particularly in Maputo, Beira, and Nampula. It is difficult to discern the actual number of victims as many incidents go unreported. Despite recent government initiatives to go after alleged leaders of kidnap for ransom gangs, kidnappings and targeted attacks on foreigners and prominent politicians remain an ongoing threat. Most kidnapping incidents target middle-class and wealthy Mozambicans of South Asian descent, though foreigners have also been frequently targeted. The attacks are believed to be a part of a syndicate due to the carefully calculated modus operandi, with targets observed for extended periods. Assailants are often well-armed and often demonstrate force to ensure compliance. 
Highway robbery and banditry pose a high threat to Mozambique. The threat is highest on routes to Mutare, Zimbabwe and South Africa. Criminals may target private vehicles. These incidents typically occur at night, but may also occur at any hour of the day. Police have also been arrested for engaging in corruption and attacking civilian vehicles if they don't pay the extortion. The Mozambican National Resistance (RENAMO) rebel group erected false checkpoints and attacking buses and military vehicles on key highways during a resurgence in fighting between 2013 and 2017; however, the threat is currently diminished due to ongoing peace talks.
Legal/Political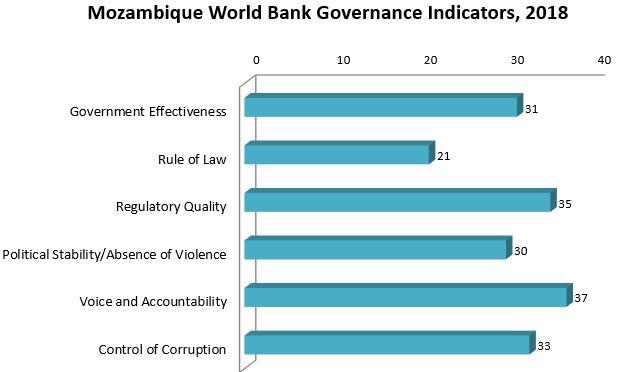 Criminal Penalties: You are subject to host country laws. If you violate local laws, even unknowingly, you may be deported, arrested or imprisoned.  It's very important to know what's legal and what's not wherever you go.
Penalties for possession, use, or trafficking in illegal drugs in are severe. Convicted offenders can expect long jail sentences and heavy fines.
Some laws are also prosecutable in the U.S., regardless of local law.  
Carry your passport with you at all times. You can be taken in for questioning if you cannot present your passport. 
Photography of some government buildings may be illegal. Ask before taking pictures.
Driving under the influence can land you immediately in jail.
Your U.S. passport will not help avoid arrest or prosecution.
Arrest Notification: If you are arrested or detained, ask police or prison officials to notify the U.S. Embassy immediately. 
LGBTI Travelers: Mozambique is a very tolerant society. Consensual same-sex relations are not criminalized and there is increasing space in public conversation regarding LGBTI issues. There remains, however, some societal stigmatization and room for progress in terms of full equal treatment, such as in the registration of LGBTI groups.