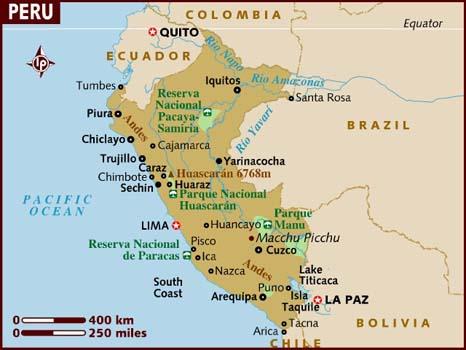 Compliance/Financial Considerations
If you intend to do any of the following in Peru, please contact Risk Services at risk@berkeley.edu or 642-5141:
Hire a local to work for you as an employee
Purchase or lease office or research space
Purchase or lease an automobile
Establish a long-term (over 90 days) or ongoing project
Conduct a clinical trial
U.S. GOVERNMENT COMPLIANCE CONSIDERATIONS
Foreign activities may trigger many U.S. laws, including:
Import Controls
Export Controls
Tax Reporting
Foreign Bank Account Reporting
Country Embargoes and Targeted Sanctions
Foreign Corrupt Practices Act
Anti-Boycott Laws
Import Controls. UC employees must adhere to U.S. import requirements, and may need to enlist the services of a customs broker, especially for shipments arriving by sea and subject to the Importer Security Filing 71730, also known as ISF 10+2.
Export Controls. Export controls may apply to advanced software and technology, research data, and other sensitive assets. UC's Export Compliance FAQ contains useful information and can be found here.  Go here for the University of California plan for compliance with federal export controls. If you plan on taking or sending potentially export-controlled materials to Peru, consult the campus Research Administration Compliance Office at 642-0120.
Tax Reporting. The University and its employees may be taxed in foreign countries. The United States does not have a tax treaty with Peru. For more information about double taxation issues, contact the Controller's Office at:
Foreign Bank Account Reporting. The U.S. Treasury Department requires U.S. citizens with a financial interest in or signatory authority over a financial account in a foreign country, where accounts exceed $10,000 at any point during a calendar year, to report such accounts on a Report of Foreign Bank and Financial Accounts (FinCen Report 114). Those needing to complete the form should contact the Controller's Office at cashiers@berkeley.edu or 643-9803 for assistance. An IRS 1040 Schedule B form (Part III–Foreign Accounts and Trusts) must be filed by the signatory for any foreign bank account, regardless of the account balance.
Country Embargoes and Targeted Sanctions. In general, collaborations between University personnel and scholars at foreign institutions or organizations do not require export licenses unless they involve export-controlled or -restricted research or involve scholars in sanctioned countries. Before engaging in an international collaboration, the University needs to determine whether export licenses are required and to verify that the foreign collaborator is not blocked or sanctioned. The Office of Foreign Assets Control (OFAC) is responsible for enforcing all U.S. embargoes and sanctions. Depending on each country's embargo or sanction program, activities may be prohibited without specific authorization or license. UC's International Collaborations webpage contains additional information on this topic.   
The Foreign Corrupt Practices Act (FCPA) is intended to stop bribery. It prohibits offering to pay, paying, promising to pay, or authorizing the payment of money or anything of value to a foreign official. The term "foreign official" generally includes any employee or contractor of a foreign government, and may include individuals employed by foreign universities. It is also unlawful to make a payment to a third party knowing that all or part of the payment will go to a foreign official. For more information, review the federal government's Resource Guide to the U.S. Foreign Corrupt Practices Act. If you need further clarification, contact the UC Berkeley Office of Legal Affairs at 642-7122. Transparency International's 2018 survey of perceived public sector corruption rated Peru at 35 out of 100 (105th out of 180 countries reviewed, i.e.  somewhat corrupt).
Anti-Boycott Laws.  The U.S. Department of Commerce is responsible for oversight of laws prohibiting individuals and entities from participating in boycotts not approved or sanctioned by the U.S. government. The Export Administration Act requires that requests to participate in such boycotts or to conduct activities in any of the boycotting countries be formally reported to the Department of Commerce and/or IRS.
For other compliance-related issues, refer to UC's International Compliance webpage.  
ADDITIONAL CONSIDERATIONS FOR DOING BUSINESS INTERNATIONALLY
Foreign Bank Accounts. Employees wishing to open a foreign bank account should contact the Controller's Office at cashiers@berkeley.edu or 643-9803. Requests to open accounts must be made through the Office of the President's Banking and Treasury Services Group by the Chancellor or the Chancellor's designee. 
Real Estate Agreements. Only employees with delegated authority to sign contracts on behalf of The Regents may enter into agreements, leases, or other contracts.  Foreign affiliates or operations must submit to the Real Estate Services Office property management agreements, personal property leases, or contracts with a term longer than one year or in an amount greater than $25,000 per year. The campus then seeks approval from the University president or designee. For more information, consult the Guidelines for the Establishment and Operation of Foreign Affiliate Organizations and Foreign Operations.
Articles
Personal Safety
ON OCTOBER 22, AUTHORITIES IN PERU HAVE ISSUED A DECREE MODIFYING THE TRAVEL AND MOVEMENT RESTRICTIONS IMPOSED AS PART OF THE COUNTRY'S EFFORTS TO COMBAT THE SPREAD OF CORONAVIRUS DISEASE (COVID-19). EFFECTIVE OCTOBER 22, THE COUNTRY'S LAND BORDERS ARE OFFICIALLY OPEN TO PASSENGER TRAFFIC. WHILE INTERNATIONAL PASSENGER FLIGHTS MAY ARRIVE IN PERU, THEY ARE LIMITED TO THOSE THAT THE MINISTRY OF TRANSPORT CERTIFIES NORMALLY TAKE NO MORE THAN FOUR HOURS. THIS REGULATION ESSENTIALLY LIMITS ARRIVALS IN PERU TO THOSE FLIGHTS DEPARTING FROM BOLIVIA, CHILE, COLOMBIA, ECUADOR, PANAMA, PARAGUAY AND URUGUAY. OFFICIAL REQUIRES ALL PERSON TO WEAR A FACE SHIELD THAT COVERS THEIR EYES, NOSE, AND MOUTH, AND A MASK THAT COVERS THEIR NOSE AND MOUTH WHENEVER THEY ARE USING PUBLIC TRANSPORTATION OR FLYING IN AN AIRCRAFT. ALL PERSONS MUST ALSO WASH THEIR HANDS WITH SOAP OR RUB DISINFECTANT ON THEIR HANDS FOR AT LEAST 20 SECONDS BEFORE BOARDING ANY AIRCRAFT OR PUBLIC TRANSPORT VEHICLE. TEMPERATURE CHECKS ARE ALSO MANDATORY, AND NO PERSONS WITH A TEMPERATURE ABOVE 38 DEGREES CELSIUS (100.4 DEGREES FAHRENHEIT) MAY BOARD ANY PUBLIC TRANSPORT VEHICLE OR ENTER ANY AIRPORT OR BUS STATION. TRAVELERS ARE ALSO REQUIRED TO SIGN AN AFFIDAVIT ATTESTING TO THEIR HEALTH. PERSONS YOUNGER THAN 14 OR OLDER THAN 65 MUST SIGN AN ADDITIONAL STATEMENT SWEARING THAT THEY ARE ABIDING BY THE NATIONAL QUARANTINE MEASURES. AUTHORITIES COULD TIGHTEN, EXTEND, EASE, OR OTHERWISE AMEND ANY RESTRICTIONS WITH LITTLE TO NO NOTICE DEPENDING ON DISEASE ACTIVITY OVER THE COMING WEEKS.
EXERCISE INCREASED CAUTION IN PERU DUE TO CRIME AND TERRORISM. SOME AREAS HAVE INCREASED RISK.
Note: this page contains basic risk information. For more details, please contact the Risk Services Office atrisk@berkeley.edu
If you are traveling to Peru on University-related business, please sign up for the University's travel insurance program by going here. For more information on the travel insurance program, please go here.
Because everyone's health is unique, we suggest seeking the advice of a medical professional before traveling internationally. Members of the campus community interested in protecting their health while abroad may schedule an appointment with the University Health Services Travel Clinic.
Quality health care is available in Lima, somewhat available in other cities, and rarely available in rural areas. In general, public hospitals are inferior to private hospitals. In a health emergency, dial 105, but be prepared for a slow response. The public ambulance system is not reliable, so use of a taxi or private transportation may be preferable.
Air pollution can be a problem in all urban areas, especially in Lima and Callao. If you have a chronic respiratory condition such as asthma, please consult a medical professional prior to your trip and carry appropriate medications.
The drinking water in Peru is widely contaminated with sewage and industrial waste. To reduce the risk of gastrointestinal discomfort or illness, drink only bottled, boiled, or purified water. Visitors should use well-recognized brands of bottled water whenever possible.
Street vendors and other unregulated food distributors often have poor hygiene standards and should be avoided. Visitors should also avoid raw or undercooked meat dishes and unpasteurized dairy products, which frequently harbor bacterial and parasitic pathogens.
Travelers risk contracting a number of serious illnesses in Peru, including:
Malaria, a general risk at lower elevations (generally below 7,000 feet), mostly from November through May. The risk is much lower in Lima, Ica, Nazca, Arequipa, Moquegua, Puno, Tacna, Cuzco, Machu Picchu, Lake Titicaca.
Dengue fever, transmitted via mosquito bites, primarily in the northern coastal and eastern lowland urban areas. It is a risk in Lima from December through April.
Yellow fever, yet another mosquito-borne disease, in Amazonas, Ancash, Ayacucho, Cuzco, Huanuco, Junin, Loreto, Madre de Dios, Pasco, Puno, San Martin and Ucayali.
Leishmaniasis, transmitted through sand fly bites, in rural areas, the eastern Andean foothills, and the Amazonian lowlands, including Manu National Park.
Crime is a serious risk in Peru. Street criminals are active in Lima and are often armed. Kidnapping for ransom is a problem throughout the Lima metropolitan area. Avoid public transit. For travel within cities, hire a reliable driver. For travel from city to city, it is best to fly. The borders with Ecuador and Colombia can be dangerous and should be avoided.
In the past, Peru suffered significant internal violence from a dissident group called Shining Path (Sendero Luminoso). That risk has diminished, but economic and political demonstrations remain common throughout the country and can quickly turn violent. 
Legal/Political
Criminal Penalties:
You are subject to local laws. If you violate local laws, even unknowingly, you may be arrested, formally expelled from the country, or prosecuted and imprisoned within Peru. The U.S. Embassy may not act as your representative.
Some laws are also prosecutable in the United States, regardless of local law. 
Drugs:
Penalties for possessing, using, or trafficking in illegal drugs in Peru are severe.
Offenders can expect long pre-trial detention and lengthy prison sentences, under harsh conditions with significant expense for themselves and/or their families.
Never agree to carry a suitcase or package through customs for anyone.
Peru uses strict screening procedures for detecting narcotics smuggling at its international airports.
Customs Currency Regulations: 
$30,000USD or its equivalent in cash or negotiable items is the maximum allowed for entry or exit.
Any amount in excess of $10,000USD must be declared and the legal source proven.
Artifacts:
Peruvian law forbids the export of pre-Columbian objects and other artifacts protected by cultural patrimony statutes.
U.S. customs officials are required to seize pre-Columbian objects and certain colonial religious artwork brought into the United States.
Animal Products/Plants:
Avoid products made of wild plants and animals as many are of illegal origin and may involve protected or endangered species, whose sale and export are illegal. 
Peruvian authorities will seize any protected species that is sold or transported, either live or transformed into food, medicinal beverages, leather, handcrafts, garments, etc.
Some products, including live animals, require special permits when leaving Peru.
Knowingly importing into the United States wildlife or plants that were taken from the wild or sold in violation of the laws of Peru (or any other country) is a violation of the Lacey Act (16 USC § 3371).
Ayahuasca/Hallucinogens: Traditional hallucinogens, often referred to as ayahuasca, are often marketed to tourists as "spiritual cleansing" and typically contain dimethyltryptamine (DMT), a strong hallucinogen that is illegal in the United States and many other countries.
Health risks associated with ayahuasca are not well understood, and, on occasion, people suffer serious illness or death after taking these drugs.
Intoxicated travelers also have been sexually assaulted, injured, or robbed.
These incidents often occur a great distance from medical facilities, making the risks even greater.
Arrest Notification: If you are arrested or detained, ask police or prison officials to notify the U.S. Embassy immediately.
LGBTI Travelers: There are no legal restrictions on same-sex sexual relations or the organization of LGBTI events in Peru.