Personal Safety
REUNION AUTHORITIES CONTINUE TO IMPLEMENT MEASURES TO CONTAIN THE SPREAD OF CORONAVIRUS DISEASE (COVID-19) AS OF OCTOBER 18. OFFICIALS PLACED THE TERRITORY UNDER A RENEWED STATE OF HEALTH EMERGENCY OCTOBER 17. NEW MEASURES HAVE BEEN ANNOUNCED, AND OTHER EXISTING RESTRICTIONS EXTENDED. FACEMASKS ARE COMPULSORY FOR PERSONS OVER 11 YEARS OLD IN MANY PUBLIC AREAS AND ON PUBLIC TRANSPORTATION. BOARD RESTRICTIONS ON NONESSENTIALS TRAVEL TO REUNION FROM AREAS OUTSIDE OF THE EUROPEAN UNION (EU)  AND SEVERAL NON-EU EUROPEAN  STATES REMAIN IN PLACE. PERSONS OLDER THAN 11 YEARS OF AGE ARRIVING IN THE TERRITORY WILL BE REQUIRED TO PROVIDE A NEGATIVE COVID-19 TEST RECEIVED NO MORE THAN 72 HOURS BEFORE BOARDING. THERE IS NO QUARANTINE REQUIREMENTS.  PERSONS APPROVED FOR TRAVEL FROM LOCATONS WITHIN THE INDIAN OCEAN MAY BE SUBJECT TO SEVEN DAYS OF SELF QUARANTINE. AUTHORITIES COULD REIMPOSE, EXTEND, EASE OR OTHERWISE AMEND ANY RESTRICTIONS WITH LITTLE TO NO NOTICE DEPENDING ON DISEASE ACTIVITY OVER THE COMING WEEKS.
Note: this page contains basic risk information. For more details, please contact the Risk Services Office at risk@berkeley.edu.
If you are traveling to Reunion on University-related business, please sign up for the University's travel insurance program by going here. For more information on the travel insurance program, please go here.
Because everyone's health is unique, we suggest seeking the advice of a medical professional before traveling internationally. Members of the campus community interested in protecting their health while abroad may schedule an appointment with the University Health Services International Travel Clinic. 
The geopolitical threat in Reunion is low. The most populous of France's five overseas departments, with over 840,000 inhabitants, the territory has a history of stability, and there are few significant challenges to the status quo. The majority of citizens favor continued union with France, for cultural reasons and economic dependence.
The capabilities and responsiveness of security services in Reunion are generally adequate (threat is low). Although Reunion has different security forces, the national police are likely to be the most relevant for foreign nationals and local staff. Police officers are typically able to speak French. Foreign nationals may contact security services when needed.
Civil Unrest generally poses a low threat in Reunion. Protests rarely occur in Reunion and seldom devolve into violence. Most demonstrations are related to economic conditions. Protests are most common in Saint-Denis, Le Port, and Saint-Benoit and occasionally cause minor transportation delays.
Legal/Political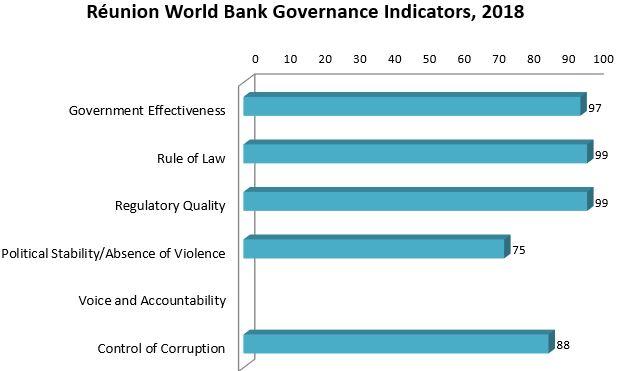 Visitors to Reunion are subject to local laws, which may not mirror, either in whole or in part, those of their home country. Those deemed to be in violation, even unknowingly, may be fined, detained, imprisoned, or temporarily or permanently expelled. Those convicted of possessing, using, or trafficking in illegal narcotics could face heavy fines or imprisonment. Home-country consular officers are typically systematically informed of a detention and are permitted to provide support services at the request of their detained citizens. When there is no treaty in force, notification and access depend on whether the two countries have direct or indirect diplomatic relations. Consular officers cannot interfere with local judicial proceedings, nor provide legal advice or representation at trial, and are unable to pay legal fees or fines with government funds. The status of dual nationals will be determined by local officials, with all attendant ramifications for access and support.