Personal Safety
OFFICIALS HAVE EXTENDED THE STATE OF EMERGENCY THROUGH AT LEAST NOVEMBER 22. MOST FOREIGN NATIONALS AND INTERNATIONAL FLIGHTS REMAIN BANNED UNTIL FURTHER NOTICE. HOWEVER, THE GOVERNMENT HAS ARRANGED REPATRIATION FLIGHTS VIA LOS ANGELES, CALIFORNIA, US AND NEW ZEALAND IN THE COMING WEEKS.  RETURNING TRAVELERS WILL NEED A COVID-19 TEST WITHIN 72 HOURS OF BOARDING THE SAMOA-BOUND FLIGHT AND MUST ISOLATE FOR 14 DAYS AFTER ARRIVAL. TRAVEL BETWEEN SAMOA AND AMERICAN SAMOA IS POSSIBLE WITH PROTOCOLS, SUCH AS REQUIRING PASSENGERS TO PROVIDE EVIDENCE OF THEIR PRESENCE IN AMERICAN SAMOA FOR 28 DAYS BEFORE DEPARTURE AND A MEDICAL EXAM WITHIN 72 HOURS BEFORE BOARDING THE SAMOA-BOUND FLIGHT.
Note: this page contains basic risk information. For more details, please contact the Risk Services Office at risk@berkeley.edu. 
If you are traveling to Samoa on University-related business, please sign up for the University's travel insurance program here. For more information on the travel insurance program, please go here. 
Because everyone's health is unique, we suggest seeking the advice of a medical professional before traveling internationally. Members of the campus community interested in protecting their health while abroad may schedule an appointment with the University Health Services International Travel Clinic.   
Samoa gained full independence in 1962. The country is politically stable, with the political landscape characterized by regular elections and constitutional rule. Samoa's Constitution is based on the British form of parliamentary democracy, combined with a tribal system. The prime minister is elected by the unicameral National Legislative Assembly (Fono Aoao Faitulafono) and is charged with forming the government. The head of state is also elected by the Fono for a five-year term, but is a largely ceremonial figure.  
The Human Rights Protection Party (HRPP) is the dominant political party; the main opposition is the Tautua Samoa Party (TSP). The HRPP won the 2011 and 2016 general elections. The next election is scheduled to take place in 2021.  
The threat of civil unrest in Samoa is low. Protests rarely occur in Samoa and seldom devolve into violence. Most demonstrations are related to social issues. Protests are most common in Apia and occasionally cause minor transportation delays.  
The threat of terrorism is minimal in Samoa. Authorities have not introduced warnings based on an official national terror threat level system. Foreign governments have not issued warnings regarding terror threats in Samoa. No specific targets exist, and Samoa may not currently be considered a potential target.
Legal/Political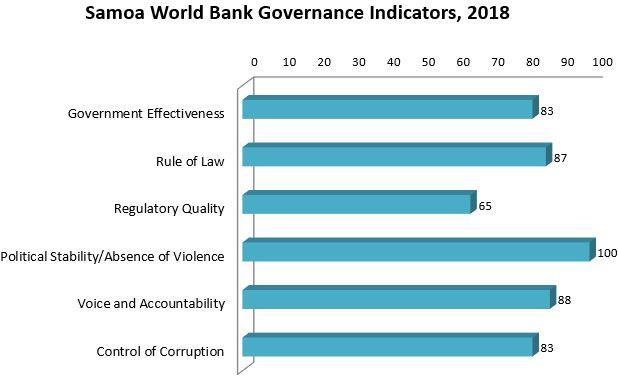 Criminal Penalties: You are subject to local laws. If you violate local laws, even unknowingly, you may be expelled, arrested, or imprisoned. Individuals establishing a business or practicing a profession that requires additional permits or licensing should seek information from the competent local authorities, prior to practicing or operating a business.
Penalties for possessing, using, or trafficking in illegal drugs in Samoa are severe, and convicted offenders can expect long jail sentences and heavy fines.
In Samoa, driving under the influence could land you immediately in jail.
Furthermore, some laws are also prosecutable in the United States, regardless of local law. 
Arrest Notification: If you are arrested or detained, ask police or prison officials to notify the U.S. Embassy immediately. 
Stray dogs: In Apia, and in many villages, stray dogs wander the streets.
You should not approach or feed them; they can become aggressive in the presence of food or if they feel threatened.
There have been several cases of attacks by multiple dogs.
Please exercise appropriate caution when you are walking, running, or riding a bike near stray dogs.
Blowholes: Samoa has numerous "blowholes" (lava tubes open to the sea where wave action produces often spectacular geysers). These blowholes are popular tourist attractions. The footing around the mouths of most blowholes is very slippery. To avoid being swept in, you should not approach too closely and should never stand between the opening of the blowhole and the sea.
LGBTI Travelers: Same-sex acts are a crime in Samoa, with prison terms of up to seven years. The Crimes Ordinance 1961 and the more recent Crimes Act 2013, which came into effect in May 2013, criminalize same-sex acts.
There is no recognition of same-sex relationships, marriage or adoption by same-sex couples in Samoa.
There are also no anti-discrimination laws in place.