Personal Safety
AUTHORITIES IN SLOVAKIA HAVE TIGHTENED INTERNATONAL ENTRY RESTRICTIONS INTRODUCED TO COMBAT THE SPREAD OF CORONAVIRUS DISEASE (COVID-19). AS OF NOVEMBER 16, SLOVAKIA WILL ALIGN ITS DESIGNATION OF HIGH RISK COUNTRIES WITH THE EUROPEAN CENTRE FOR DISEASE PREVENTION AND CONTROL (ECDC). INDIVIDUALS ARRIVING FROM NON-EU HIGH RISK COUNTRIES MUST REGISTER WITH AUTHORITIES AND SELF ISOLATE UNTIL THEY TAKE A NEGATIVE COVID-19 TEST. THE TEST MUST NOT BE TAKEN UNTIL THE FIFTH DAY AFTER ARRIVAL; THOSE TESTING POSITIVE ARE REQUIRED TO SELF ISOLATE UNTIL THEY HAVE RECOVERED. THESE RESTRICTIONS DO NOT APPLY TO CITIZENS OF NEIGHBORING COUNTRIES COMMUTING FOR WORK.  AUTHORITIES PREVIOUSLY EXTENDED THE STATE OF EMERGENCY UNTIL AT LEAST DECEMBER 29, THOUGH THE NIGHTLY CURFEW EXPIRED NOVEMBER 14. PROTECTIVE FACEMASKS ARE MANDATORY IN ALL PUBLIC PLACES, INCLUDING MASS TRANSPORT. AUTHORITIES COULD REIMPOSE, EXTEND, FURTHER EASE, OR OTHERWISE AMEND ANY RESTRICTIONS WITH LITTLE TO NO NOTICE, DEPENDING ON DISEASE ACTIVITY OVER THE COMING WEEKS. 
Note: this page contains basic risk information. For more details, please contact the Risk Services Office at risk@berkeley.edu.
If you are traveling to Slovakia on University-related business, please sign up for the University's travel insurance program by going here. For more information on the travel insurance program, please go here.
Because everyone's health is unique, we suggest seeking the advice of a medical professional before traveling internationally. Members of the campus community interested in protecting their health while abroad may schedule an appointment with the University Health Services International Travel Clinic.   
The geopolitical threat is low in Slovakia. Slovakia is a multiparty parliamentary republic in which parliamentary elections take place every four years. The current administration is stable, though allegations of government corruption and links to organized crime have led to large scale protest which has the potential to become destabilizing. Internationally Slovakia maintains good relations with its neighbors and is unlikely to experience international geopolitical disturbance. 
The threat of terrorism is low in Slovakia.  Authorities have recently not introduced warnings based on an official national terror threat level system. Foreign governments have not issued warnings regarding terror threats in Slovakia. No specific threats exist, and Slovakia may not currently be considered a potential target.  
Islamist extremists - both radicalized locals and foreign nationals - likely pose a threat to Slovakia. While major terror-related incidents in the country have not occurred, plots by so-called "lone-wolves" against soft targets cannot be ruled out
Legal/Political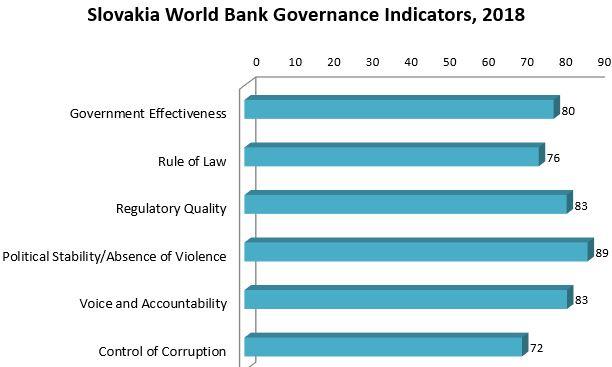 Criminal Penalties: You are subject to local laws. If you violate local laws, even unknowingly, you may be expelled, arrested, or imprisoned. Furthermore, some laws are also prosecutable in the U.S., regardless of local law. 
Arrest Notification: If you are arrested or detained, ask police or prison officials to notify the U.S. Embassy immediately. 
Do not purchase counterfeit or pirated goods. They are illegal in the United States and you may be breaking local laws as well.
Driving under the influence is a crime and may land you in jail. The blood alcohol tolerance level is zero percent.
It is illegal to take photographs of security/military installations. If you violate this law, authorities may confiscate the pictures/recordings, issue a reprimand or fine, or even expel you from the country.

Slovak customs authorities enforce strict regulations concerning temporary import or export of firearms, antiquities, medications, business equipment, 

et al

. Contact the 

Embassy of Slovakia

 or a 

Slovak consulate

 in the United States for specific information regarding customs requirements.
LGBTI Travelers: LGBTI American citizens in same-sex marriages or civil unions who travel to or reside in Slovakia may face difficulties and legal issues, as the country does not recognize same-sex unions and adopted a constitutional amendment banning same-sex marriage in 2014. Same-sex sexual activity between consenting adults is legal. Slovak law prohibits discrimination based on sexual orientation and gender identity and classifies crimes based on sexual orientation as hate crimes, though these laws are not always enforced. Prejudice and societal discrimination persist. LGBTI persons occasionally report that they receive verbal abuse in the form of gay slurs. However, Bratislava and Kosice; however, have hosted annual Pride parades without major incident since 2010.