Personal Safety
A STATE OF PUBLIC EMERGENCY REMAINS IN PLACE THROUGH NOVEMBER 30. THE GOVERNMENT HAS BEGUN TO IMPLEMENT SOCIAL DISTANCING MEASURES AFTER TWO REPATRIATED CITIZEN TESTED POSITIVE FOR COVID-19 WHILE IN QUARANTINE. INTERNATIONAL FLIGHTS AND CRUISE SHIPS REMAIN BANNED, THOUGH SOME REPATRIATION FLIGHTS ARE OCCURRING. NATIONAL CARRIER SOLOMON AIRLINES (IE) HAS SUSPENDED SCHEDULED COMMERICAL INTERNATONAL FLIGHTS THROUGH AT LEAST JANUARY 10. PEOPLE WHO STILL CAN ENTER THE COUNTRY HAVE TO QUARANTINE FOR 14 DAYS AT DESIGNATED SITES UPON ARRIVAL. THE GOVERNMENT HAS INCREASED SECURITY IN BORDER AREAS WITH PAPUA NEW GUINEA'S BOUGAINVILLE AUTONOMOUS REGION.
Note: this page contains basic risk information. For more details, please contact the Risk Services Office at risk@berkeley.edu.
If you are traveling to Solomon Islands on University-related business, please sign up for the University's travel insurance program by going here. For more information on the travel insurance program, please go here.
Because everyone's health is unique, we suggest seeking the advice of a medical professional before traveling internationally. Members of the campus community interested in protecting their health while abroad may schedule an appointment with the University Health Services International Travel Clinic.   
The Solomon Islands is a constitutional monarchy with a parliamentary system of government. Queen Elizabeth II, represented by a governor-general, is the head of state, while the prime minister is the head of government. A 50-member unicameral Parliament is elected for four-year terms and is responsible for electing the governor-general for a five-year term, as well as the prime minister for a four-year term. However, Parliament may be dissolved by a majority vote of its members before the completion of its term. The incumbent prime minister is Rick Houenipwela; he assumed power after his predecessor Manasseh Sogavare was ousted after losing a vote of no confidence in November 2017.  
Issues relating to unemployment, perceptions of government corruption, ethnic tensions, and slow economic reform continue to pose a threat to the country's political stability. The likelihood of such issues leading to widespread unrest, as seen in 2006 and 2011, is currently low. Nonetheless, the underlying threat remains.
The threat of kidnapping in the Solomon Islands is minimal; kidnappers are more likely to target locals. The most common types of abduction in the Solomon Islands are opportunistic kidnap-for-ransom or relate to personal and criminal disputes. Victims are usually released unharmed and relatively quickly.
The threat of terrorism is minimal in the Solomon Islands. Authorities have not introduced warnings based on an official national terror threat level system. Foreign governments have not issued warnings regarding terror threats in the Solomon Islands. No specific threats exist, and the Solomon Islands may not currently be considered a potential target.
Legal/Political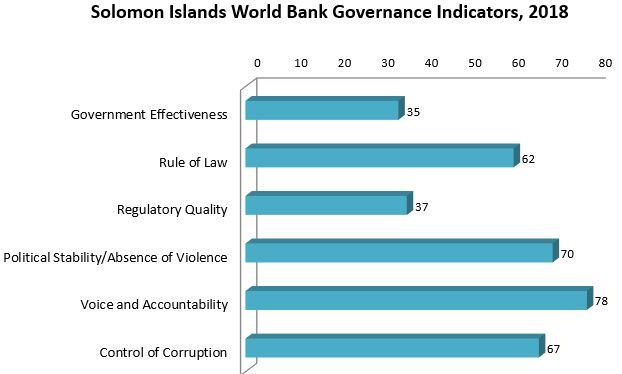 Criminal Penalties: You are subject to local laws. If you violate local laws, even unknowingly, you may be expelled, arrested, or imprisoned. Individuals establishing a business or practicing a profession that requires additional permits or licensing should seek information from the competent local authorities, prior to practicing or operating a business.
Local customary law is still observed in Solomon Islands, especially in rural areas. Disputes based in customary law are generally resolved through a compensation-based settlement mediated by law enforcement or local government officials.
Furthermore, some laws are also prosecutable in the United States, regardless of local law. 
Arrest Notification: If you are arrested or detained, ask police or prison officials to notify the U.S. Consular Agency or U.S. Embassy immediately. 
Customs: The Solomon Islands' customs authorities enforce strict regulations for importing or exporting firearms and ammunition, pornography, and certain prescription drugs. Other items may be subject to quarantine regulations or import duty. The Solomon Islands' government prohibits the export of military artifacts from World War II. Contact the Solomon Islands' Mission to the United Nations for specific information regarding customs requirements.
Unexploded Ordnance: Unexploded World War II ordnance remains in the Solomon Islands, particularly in the areas of Hell's Point, the ridges behind Honiara, the New Georgia group of islands, Tulagi, and the Russel Islands. Be alert when hiking, boating, or diving. Obey all warnings.  
LGBTI Travelers: Homosexual acts are illegal in the Solomon Islands and can carry long jail sentences.