Personal Safety
EXERCISE INCREASED CAUTION IN TAJIKISTAN DUE TO TERRORISM.
Note: this page contains basic risk information. For more details, please contact the Risk Services Office at risk@berkeley.edu.
If you are traveling to Tajikistan on University-related business, please sign up for the University's travel insurance program by going here. For more information on the travel insurance program, please go here.
Because everyone's health is unique, we suggest seeking the advice of a medical professional before traveling internationally. Members of the campus community interested in protecting their health while abroad may schedule an appointment with the University Health Services International Travel Clinic.   
The geopolitical threat in is moderate in Tajikistan. Tajikistan is presidential republic and functionally one-party state in which elections take place every seven years, though they are deemed neither free nor fair by international observers. The current administration is adequately stable, tight control of institutions ensures that dissent is not tolerated and thus is unlikely to threaten the current government. Geopolitical challenges faced by Tajikistan include the heightened threat of terrorism in the region primarily from Islamic extremist groups and drug smuggling activity due to country's location on the heroin smuggling route from Asia to Europe. Tajikistan receives large amounts of foreign aid from China, Russia, and Iran which seek to address those shared challenges and tacitly support the current administration, though they could become destabilizing in the medium-term. 
The capabilities and responsiveness of security services in Tajikistan are generally poor (risk is high). Although Tajikistan has a number of different security forces, the Tajik Police are likely to be the most relevant for foreign nationals and local staff. Police officers are typically able to speak Russian. Corruption among police is a major issue. Tajikistan has faced criticism for human rights abuses.
Legal/Political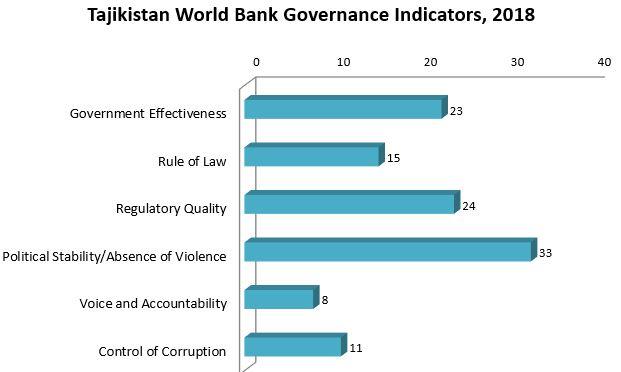 Criminal Penalties: You are subject to local laws. If you violate local laws, even unknowingly, you may be expelled, arrested, or imprisoned.  Furthermore, some laws are also prosecutable in the United States, regardless of local law. 
Arrest Notification: If you are arrested or detained, ask police or prison officials to notify the U.S. Embassy immediately. 
Penalties for possessing, using, or trafficking in illegal drugs are severe. Expect long jail sentences and heavy fines if you are convicted. 
Tajikistan maintains zero tolerance for alcohol-related incidents. 
It is illegal to take pictures of certain buildings. Ask before taking photographs of anything of possible military or security interest. 
Always carry a copy of your U.S. passport, Tajik visa, and visa registration, since local police frequently conduct document inspections. Check your visa and registration validity dates regularly, and renew them before they expire. 
LGBTI Travelers: There are no legal restrictions on same-sex sexual relations or the organization of LGBTI events, although Tajik society is generally hostile to LGBTI interests.