Personal Safety
AUTHORITIES IN TOGO HAVE EXTENDED THE COUNTRY'S STATE OF HEALTH EMERGENCY THROUGH AT LEAST MARCH 2021. THE EXTENSION FOLLOWS THE END OF THE PRIOR EXTENSION PERIOD SEPTEMBER 15. ALL LAND BORDERS REMAIN CLOSED; CARGO AND HUMANITARIAN TRANSPORT IS UNAFFECTED. INCREASED SCREENING MEASURES ARE IN PLACE AT HIGH RISK OVERLAND CROSSING POINTS WITH STATE SECURITY MONITORING TRAVEL ON MAJOR ROADS. INTERNATIONAL AND DOMESTIC FLIGHTS RESUMED AUGUST 1; HOWEVER, REGIONAL FLIGHTS ROUTES REMAIN SUSPENDED AS OF MID SEPTEMBER. ARRIVING PASSENGERS MUST PROVIDE PROOF OF A NEGATIVE COVID-19 PCR TEST TAKEN NO MORE THAN FIVE DAYS BEFORE BOARDING. AUTHORITIES REQUIRE PASSENGERS TO TAKE ANOTHER TEST ON ARRIVAL AT LOME-TOKOIN INTERNATIONAL AIRPORT (LFW). TRAVELERS ARE LIKELY TO SPEND 24-48 HOURS UNDER SELF QUARANTINE AT A HOTEL OR RESIDENCE WHILE AWAITING TEST RESULTS. PERSONS WHO TEST POSITIVE FOR COVID-19 ARE REQUIRED TO ENTER A 14-21 DAY QUARANTINE AT THE EDA OBA HOTEL IN LOME, AT THEIR OWN EXPENSE. TRAVELERS MUST DOWNLOAD AND INSTALL THE CONTACT TRACING "TOGO SAFE" MOBILE APPLICATION PRIOR TO ARRIVAL. THIS MUST REMAIN ACTIVE FOR THE DURATION OF THEIR STAY OR FOR AT LEAST 30 DAYS AFTER ARRIVAL. ARRIVAL AND DEPARTURE TRAVELERS MUST FILL OUT A TRAVELER DECLARATION FORM. EXIT TESTING IS REQUIRED WITHIN 72 HOURS BEFORE DEPARTURE.  ALL RESIDENTS MUST WEAR FACEMASKS WHEN IN PUBLIC. AUTHORITIES COULD REIMPOSE, EXTEND, FURTHER EASE, OR OTHERWISE AMEND ANY RESTRICTIONS WITH LITTLE TO NO NOTICE DEPENDING ON DISEASE ACTIVITY. HEALTH AND SANITARY CHECKPOINTS ARE ALSO POSSIBLE ON MAJOR ROUTES.
Note: this page contains basic risk information. For more details, please contact the Risk Services Office at risk@berkeley.edu.
If you are traveling to Togo on University-related business, please sign up for the University's travel insurance program by going here. For more information on the travel insurance program, please go here.
Because everyone's health is unique, we suggest seeking the advice of a medical professional before traveling internationally. Members of the campus community interested in protecting their health while abroad may schedule an appointment with the University Health Services International Travel Clinic.   
The geopolitical threat is high in Togo. Togo is a presidential republic led by incumbent President Faure Gnassingbe, who rose to power following the death of his father, long-term leader Gnassingbe Eyadema, in early 2005. The country has a unicameral Parliament, which is dominated by the ruling party, the Union pour la Republique (UNIR). Gnassingbe has been accused by the opposition of making political moves to remain in office indefinitely.
While the country is relatively stable, political disputes have sometimes resulted in widespread unrest, especially in the capital Lome. The opposition has also accused Gnassingbe's regime of suppressing opponents of the president. 
Togo has maintained good relationships with its neighbors Benin, Ghana, and Burkina Faso. However, tensions occasionally rise between the country and its neighbors, with Togo accusing other countries of meddling in its internal affairs. 
The capabilities and responsiveness of security services in Togo are generally poor and pose a severe threat. Although Togo has a number of different security forces, the civil and national police are likely to be the most relevant for foreign nationals and local staff. Police officers are typically able to speak French, though no other foreign languages. Police response to emergency calls may be slow, and crime victims are sometimes asked to provide transportation, fuel, money, or supplies to responding officers; this is often considered a stipend rather than corruption. Incidents of police harassment or inappropriate detention of foreigners are rare, but can occur. Security forces occasionally expect bribes. In Togo, foreign nationals should not rely on security forces and instead liaise with their diplomatic mission, if possible.  
The threat of kidnapping in Togo is generally low; kidnappers are more likely to targets locals. The few reported abductions are pirate-related kidnappings off the coast of Togo. Victims are usually released unharmed and relatively quickly.
Legal/Political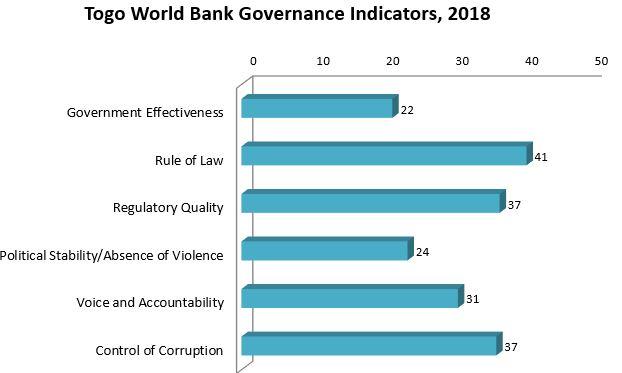 Criminal Penalties: You are subject to local laws. If you violate local laws, even unknowingly, you may be expelled, arrested, or imprisoned. Individuals establishing a business or practicing a profession that requires additional permits or licensing should seek information from the competent local authorities, prior to practicing or operating a business. The U.S. Embassy will not intervene in private contract or family law disputes in Togo, and you must seek the recourse of the Togolese judicial system, even if you are a U.S. citizen. Furthermore, some laws are also prosecutable in the United States, regardless of local law. 
Arrest Notification: If you are arrested or detained, ask police or prison officials to notify the U.S. Embassy immediately.
LGBTI Travelers: Local law forbids "acts against nature committed with an individual of one's sex," widely understood to mean same-sex sexual activity. If you are convicted of engaging in consensual same-sex sexual activity, you may be imprisoned and/or fined. However, the U.S. Embassy has not witnessed Togolese prosecutions against U.S. citizens for same-sex activity to date.