Personal Safety
AS OF NOVEMBER 10, AUTHORITIES IN TRINIDAD AND TOBAGO HAVE FURTHER EASED RESTRICTIONS ON ENTERTAINMENT AND RECREATIONAL ACTIVITIES AS PART OF THE NATION'S ONGOING CORONAVIRUS DISEASE (COVID-19) RECOVERY AND RESPONSE PLAN. OFFICIALS CONTINUE TO ENFORCE THE CLOSURE OF ALL OF THE NATION'S AIRPORTS AND SEAPORTS TO INTERNATONAL PASSENGER AIRCRAFT AND VESSELS. THE EDICT DOES NOT APPLY TO CARGO SHIPMENTS. EFFECTIVE NOVEMBER 15, RETURNING NATIONALS AND AUTHORIZED RESIDENTS WILL BE REQUIRED TO PRESENT A NEGATIVE COVID-19 PCR RECORDED 72 HOURS BEFORE ARRIVAL. UPON ARRIVAL, PASSENGERS WILL BE PLACED IN A STATE OR STATE SUPERVISED QUARANTINE FACILITY FOR SEVEN DAYS; THEY WILL BE TESTED ON THE SIXTH DAY AND RELEASED ONCE THIS TEST IS NEGATIVE. ALL RESTRICTIONS ARE SUBJECT TO AMENDMENT AT SHORT NOTICE.
Note: this page contains basic risk information. For more details, please contact the Risk Services Office at risk@berkeley.edu.
If you are traveling to Trinidad and Tobago on University-related business, please sign up for the University's travel insurance program by going here. For more information on the travel insurance program, please go here.
Because everyone's health is unique, we suggest seeking the advice of a medical professional before traveling internationally. Members of the campus community interested in protecting their health while abroad may schedule an appointment with the University Health Services International Travel Clinic.    
Geopolitical threat is considered low for Trinidad and Tobago. While the political system is stable, the government faces a number of short- to medium-term challenges that are more likely to impact the government than the state or political system. Trinidad and Tobago is a parliamentary representative democratic republic. The president is the head of state, while the prime minister is the head of government. The Parliament consists of two chambers, the Senate, with 31 seats, and the House of Representatives, with 41 seats. The parliamentary term of office is five years. Tobago also has its own House of Assembly, which is elected by popular vote. The members of the Senate are appointed by the president, while the House of Representatives are elected by popular vote every five years. The government has three branches: legislative, executive, and judicial. The current prime minister is Keith Christopher Rowley of the Peoples' National Movement (PNM), who defeated Kamla Persad-Bissessar of the United National Congress (UNC) in the September 2015 parliamentary elections. The head of state is the president, Anthony Thomas Aquinas Carmona, who assumed office in March 2013. Rowley's government faces a number of economic challenges, which largely stem from declining oil prices and the country's reliance on the energy sector. There are no current imminent threats to the country's political stability. The next general elections are due in 2020.
The threat of kidnapping in Trinidad and Tobago is moderate. Most traditional kidnapping incidents target locals, particularly wealthy local businesspeople, as well as those of South Asian descent. Dual nationals and citizens from elsewhere in the region, including from Venezuela, Jamaica, and Colombia, have also been targeted. Most kidnappings conclude with the release of the victim, either by the perpetrators following a ransom payment or as a result of a security force operation. Short-term foreign business and recreational travelers are not usually targeted in traditional kidnappings, though the threat remains.  
A far more credible concern to travelers is that of express kidnapping, which involves victims being held for a short duration, in which they are forced to withdraw money from ATMs or to disclose their banking information. The threat is marginally elevated in west and northwest Trinidad, including in Port of Spain and San Fernando.
Crime generally poses a high threat in Trinidad and Tobago. Criminal activity is most prevalent in urban areas and known tourist locations, particularly in Port of Spain; however, crime can also occur in popular tourist areas, such as Fort George, the Pitch Lake, and Las Cuevas beach. Nonviolent crime poses a high threat to foreign nationals, expatriates, and local staff. Thieves typically target purses, bags, wallets, smartphones, and other electronic devices. These opportunistic crimes can occur anywhere, but especially at major tourist attractions, on buses, entering and exiting vehicles, in restaurants or bars, outside of ATMs/banks. While criminals do not necessarily target foreign nationals and expatriates, a significant number of incidents, especially theft and burglary, occur in areas frequented by tourists and expats.  Crimes against foreign nationals, expatriates, and local staff are more likely to escalate late at night or if the victim attempts to resist.   
Scams pose a moderate threat to foreign nationals, local staff, and businesses in Trinidad and Tobago. Organized crime groups are likely behind these crimes.  
Overall, the threat of violent crime in Trinidad and Tobago is high; however, foreign nationals are rarely targeted by criminals. Violent crime, including carjacking, homicide, rape, assault, and home invasion, poses the greatest threat to local residents. Particular areas of concern in the country include San Fernando, Laventille, Sea Lots, Cocorite, Beetham, the Interior of Savannah, downtown Port of Spain, and Fort George. Most violent crime is drug- or gang-related and does not typically affect foreign nationals or locals unaffiliated with these groups. However, violence could spillover and affect innocent bystanders. Criminals in Trinidad and Tobago are often armed and do not hesitate to use force if a victim resists; do not resist.  
Gender-based violence and/or discrimination poses a moderate threat to foreign nationals, expatriates, and local staff in Trinidad and Tobago. Verbal harassment and cat calling, typically of women traveling alone, does occur.  Anti-LGBTQ violence is not widely reported in Trinidad and Tobago; however, members of the LGBTQ community could experience verbal harassment and, in rare instances, possibly physical threats.  
Organized crime does not usually affect foreign nationals, expats, or local personnel unaffiliated with gangs or crime groups in Trinidad and Tobago. Known gangs and organized crime groups operate in the country and specialize in drug trafficking and weapons smuggling. Port of Spain and San Fernando are known to have a significant presence of criminal groups.  
Highway robbery and banditry pose a high threat in Trinidad and Tobago. The threat is high in both rural and urban areas. Criminals have been known to target private vehicles, but they also may attempt to rob buses on isolated stretches of road.
Legal/Political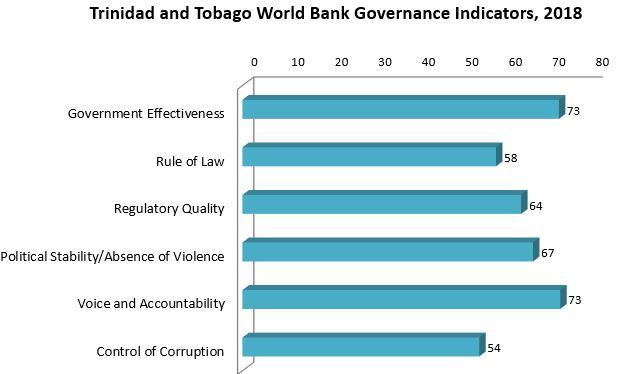 Criminal Penalties:  You are subject to local laws. If you violate local laws, even unknowingly, you may be expelled, arrested, or imprisoned.
It may be illegal to take pictures of government and military facilities. Get permission before taking such pictures.
Penalties for possessing, using, or trafficking in illegal drugs in Trinidad and Tobago are severe, and convicted offenders can expect long jail sentences and heavy fines.
It is illegal to carry ammunition when arriving, departing, or transiting through Trinidad and Tobago. Individuals found with as little as one bullet, a previously discharged bullet casing, or spent ammunition used in items such as jewelry or keyrings on their person or in their luggage at the airport have been detained, charged, and fined.
Furthermore, some laws are also prosecutable in the U.S., regardless of local law.  
Arrest Notification: If you are arrested or detained, ask police or prison officials to notify the U.S. Embassy immediately. 
Camouflage Warning: It is prohibited to import any camouflage-pattern material without approval from the Ministry of National Security. Wearing camouflage clothing in public is prohibited. Camouflage uniforms may be worn if you are in Trinidad and Tobago on official military business.
LGBTI Travelers: Trinidad and Tobago law criminalizes same sex-sexual activity, with penalties of up to 25 years in prison. However, this is rarely enforced except in conjunction with serious offenses such as rape. Immigration law also bars the entry of homosexuals, but this is also rarely enforced.