Personal Safety
AS PART OF ONGOING EFFORTS TO REOPEN THE ECONOMY AMID THE CORONAVIRUS DISEASE (COVID-19) PANDEMIC, AUTHORITIES IN TUNISIA PLAN TO EASE RESTRICTIONS IN THE GREATER TUNIS REGION BEGINNING NOVEMBER 23. PREVIOUSLY IMPOSED RESTRICTIONS REMAIN IN PLACE. ALL TRAVELERS ARE REQUIRED TO PROVIDE A NEGATIVE PCR TEST RESULT TAKEN 72 HOURS BEFORE TRAVELING TO TUNISIA, REGARDLESS OF WHERE THEY ARE ARRIVING FROM. CHILDREN UNDER THE AGE OF 12 ARE EXEMPT FROM THIS REQUIREMENT. TRAVELERS AE ALSO REQUIRED TO SELF ISOLATE AT A HOTEL OR AT HOME FOR 14 DAYS. TRAVELERS ARE ALLOWED TO TAKE A SECOND PCR TEST SEVEN DAYS AFTER THEIR ARRIVAL; IF THE TEST RESULT IS NEGATIVE, THEY WILL BE ABLE TO COME OUT OF QUARANTINE. HEALTH OFFICIALS WILL ALSO BEGIN RANDOM COVID-19 TESTING AT AIRPORTS. AUTHORITIES REQUIRE ALL TRAVELERS DOWNLOAD THE E7MI TRACKING APPLICATION UPON ARRIVAL IN THE COUNTRY.  TRAVELERS WHO CANNOT PROVIDE A NEGATIVE TEST RESULT UPON ARRIVAL WILL BE SUBJECT TO A THREE DAY MANDATORY QUARANTINE AND SUBJECT TO A TEST AT THEIR OWN EXPENSE. INDIVIDUALS WHO PLAN ON STAYING FOR FIVE DAYS OR LESS MUST PROVIDE A NEGATIVE TEST UPON ARRIVAL AND CAN SKIP THE MANDATORY SELF ISOLATION. AUTHORITIES COULD REIMPOSE, EXTEND, FURTHER EASE, OR OTHERWISE AMEND ANY RESTICTIONS WITH LITTLE TO NO NOTICE DEPENDING ON DISEASE ACTIVITY OVER THE COMING WEEKS.
Note: this page contains basic risk information. For more details, please contact the Risk Services Office at risk@berkeley.edu.
If you are traveling to Tunisia on University-related business, please sign up for the University's travel insurance program by going here. For more information on the travel insurance program, please go here.
Because everyone's health is unique, we suggest seeking the advice of a medical professional before traveling internationally. Members of the campus community interested in protecting their health while abroad may schedule an appointment with the University Health Services International Travel Clinic.   
The geopolitical threat in Tunisia is moderate. The country is currently stable; however, sometimes violent civil unrest occurs, mainly in less-developed, rural areas. Tunisia is a constitutional democracy. The president is head of state, and the prime minister is the head of government. Both the president and legislators serve five-year terms.   
Poverty and youth unemployment remain drivers of instability. In addition, insecurity in Libya continues to impact Tunisia's border areas.   
The threat of kidnapping in Tunisia is low; kidnappers are more likely to target locals. The most common types of abduction in Tunisia include basic opportunistic kidnap-for-ransom and political kidnapping. Victims of political kidnapping face the threat of injury or death during confinement.
Legal/Political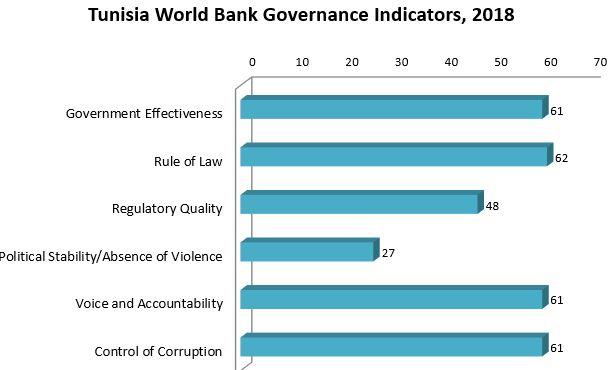 Criminal Penalties: American citizens are subject to all laws in Tunisia.
If you violate local Tunisian laws, even unknowingly, you may be arrested, imprisoned, or expelled from Tunisia.
Penalties for possessing, using, or trafficking in illegal drugs in Tunisia are severe, and convicted offenders can expect long jail sentences and heavy fines.
You may be taken in for questioning if you don't have your passport with you or if you take pictures of certain buildings. It is against Tunisian law to photograph government offices and other security facilities.
Driving under the influence of alcohol could land you immediately in jail.
If you break local laws in Tunisia, your U.S. passport won't help you avoid arrest or prosecution.
Certain acts are prosecutable in the U.S., regardless of local law. 
Drivers who are involved in a motor vehicle accident that results in death or serious injury of another person may be taken into protective custody until they are absolved of responsibility.
Arrest: If you are arrested or detained, ask police or prison officials to notify the U.S. Embassy immediately. 
LGBTI Travelers: Consensual same-sex sexual relations are criminalized in Tunisia. Penalties include sentences of up to three years in prison.