Personal Safety
AUTHORITIES IN UKRAINE ARE MAINTAINING NATIONWIDE 48 HOUR CURFEWS EACH WEEKEND UNTIL NOVEMBER 30 AS PART OF EFFORTS TO CONTROL INCREASING RATES OF CORONAVIRUS DISEASE (COVID-19) IN THE COUNTRY. THE CURFEW IS IN PLACE FROM 0001 SATURDAY UNTIL 0001 MONDAY.  FOREIGNERS ARE ALLOWED TO ENTER UKRAINE, PROVIDED THEY PROVIDE PROOF OF TRAVELER'S INSURANCE THAT COVERS THE COST OF COVID-19 OBSERVATION AND TREATMENT. THE TRAVELER'S INSURANCE MUST BE ISSUED BY A COMPANY IN U KRAINE OR AN INTERNATIONAL INSURANCE COMPANY WITH REPRESENTATION OR PARTERNSHIP IN UKRAINE. ALL ARRIVALS FROM COUNTRIES THAT HAVE HIGH COVID-19 INFECTION RATES MUST SELF ISOLATE FOR 14 DAYS UPON ARRIVAL; PERSONS IN POSSESSION OF A NEGATIVE COVID-19 PCR TEST TAKEN NO MORE THAN 48 HOURS PRIOR TO ARRIVAL ARE EXEMPT. AUTHORITIES COULD REIMPOSE, EXTEND, FURTHER EASE, OR OTHERWISE AMEND ANY RESTRICTIONS WITH LITTLE TO NO NOTICE DEPENDING ON DISEASE ACTIVITY OVER THE COMING WEEKS.
EXERCISE INCREASED CAUTION IN UKRAINE DUE TO CRIME, CIVIL UNREST, AND ELECTIONS. SOME AREAS HAVE INCREASED RISK.  READ ENTIRE TRAVEL ADVISORY.  
Note: this page contains basic risk information. For more details, please contact the Risk Services Office at risk@berkeley.edu.
If you are traveling to Ukraine on University-related business, please sign up for the University's travel insurance program by going here. For more information on the travel insurance program, please go here.
Because everyone's health is unique, we suggest seeking the advice of a medical professional before traveling internationally. Members of the campus community interested in protecting their health while abroad may schedule an appointment with the University Health Services International Travel Clinic.   
The geopolitical threat is high in Ukraine. Ukraine is a semi presidential republic in which presidential elections take place every five years and parliamentary elections take place every four. The current administration is unstable; deep divisions exist in Polish society between eastern regions with large Russian speaking populations in favor of closer Russian integration and western regions in favor of further European integration. Changes in the government reflect these divisions, the previous pro-Russian president Viktor Yanukovych was ousted as a result of large-scale and violent anti-government protests in 2013-14 in response to policy decisions favoring Russia over the European Union (EU). Yanukovych was replaced by generally pro-European Petro Poroshenko which has had tangible consequences on Polish domestic and foreign policy. The enduring effect of the violent political transition is the conflict in the Donbas region between Ukrainian forces and pro-Russian separatists who have declared the oblasts of Donetsk and Luhansk as independent republics. The pro-Russian separatists are backed by the Russian state ostensibly to ensure the safety of ethnic Russians in the region. The War in Donbas has caused extensive geopolitical destabilization in Ukraine, including frequent violent clashes, terrorist attacks by both sides, and a deteriorated relationship with Russia which has seized control of Crimea. This war will continue to be a destabilizing feature of Ukrainian geopolitics. Domestically, Ukraine is still facing political challenges regarding public opinion on policy orientation towards either the EU or Russia, as well as allegations of corruption and poor economic performance which could engender public demonstration and further destabilization for the Ukrainian government.   
For most foreign nationals, the threat of kidnapping in Ukraine is moderate. Kidnappings are not a frequent occurrence, and kidnappers are generally more likely to target locals than foreigners. The most common types of abduction in Ukraine are fairly geographically specific and include conflict-related kidnapping/wrongful detention, basic opportunistic kidnap-for-ransom, express kidnapping and high net worth individual kidnap-for-ransom.  
The kidnapping/wrongful detention threat is elevated in the eastern provinces of Donetsk and Luhansk, where separatist conflict has resulted in an uptick abductions and detentions of local nationals and sporadic detentions of foreign nationals since 2014.  
The kidnapping threat is generally reduced outside of the restive eastern regions, however, there has been an increase in short-term express kidnappings, virtual kidnappings and kidnap-for-ransom incidents in Kyiv and surrounding areas in recent years. The majority of these incidents have been orchestrated by criminal perpetrators for financial gain. The kidnapping threat to most Western nationals conducting short-term business or recreational travel in urban centres in Ukraine, including Kyiv, is generally reduced.  
Financially motivated kidnappings in urban locations are generally resolved fairly quickly and victims released unharmed. However, there have been several cases in which local kidnap victims have been held hostage for lengthy periods. When it comes to conflict-related kidnappings/detentions, victims may be held for longer periods of time without any guarantee of safe release.   
The capabilities and responsiveness of security services in Ukraine are generally adequate (risk is moderate). Although Ukraine has a number of different security forces, the National Police are likely to be the most relevant for foreign nationals/local staff outside of the separatist areas of eastern Ukraine and Russian-occupied Crimea. Police officers are typically unable to speak foreign languages other than Russian. Police corruption is widespread in Ukraine. Police have previously been accused of excessive use of force during protests amid an apparent culture of impunity. Foreign nationals should avoid contact with security forces when possible and instead liaise with their diplomatic mission. 
Legal/Political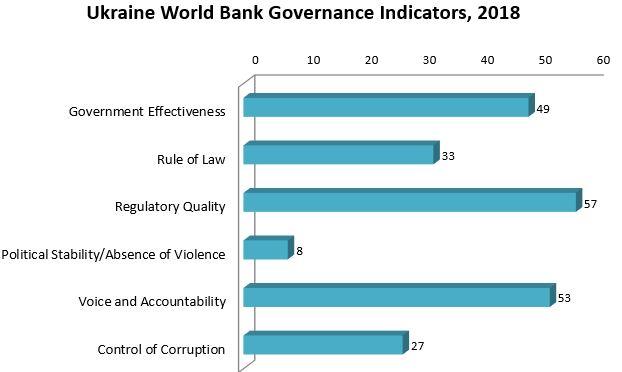 Criminal Penalties: You are subject to local laws. If you violate local laws, even unknowingly, you may be expelled, arrested, or imprisoned. If you are arrested, you can face extended periods, even years, in pre-trial detention. Penalties for possessing, using, or trafficking illegal drugs are severe, and if convicted you can expect long jail sentences and heavy fines. Furthermore, some violations of laws in Ukraine are also prosecutable in the U.S., regardless of local law. 
Arrests: When in a foreign country, you are subject the country's laws. If you are arrested or detained, ask police or prison officials to notify the U.S. Embassy immediately. 
Ukrainian law permits police to stop you for any reason and check your identification documents.
You are required to carry your passport at all times; police may check to verify your legal presence in Ukraine.
Police are permitted to detain you for up to 72 hours without formal charges.
If stopped by the police for an unclear reason, call the U.S. Embassy at +38 (044) 521 5566 within working hours or +38 (044) 521 5000 after hours.
LGBTI Travelers: Discrimination on the basis of sexual orientation and gender identity is a problem in Ukraine, as LGBTI individuals have been the target of harassment, threats, and acts of violence. F