Personal Safety
UZBEKISTAN WILL RESUME FLIGHTS TO DUSHANBE, TAJIKISTAN, FROM OCTOBER 28 AFTER FLIGHTS WERE SUSPENDED IN MARCH AS PART OF EFFORTS TO STEM THE SPREAD OF CORONAVIRUS DISEASE (COVID-19). FLIGHTS FROM UZBEKISTAN'S CAPITAL, TO DUSHANBE WILL TAKE PLACE ONCE A WEEK ON WEDNESDAYS, WHILE FLIGHTS FROM DUSHANBE TO TASHKENT WILL TAKE PLACE ONCE A WEEK ON THURSDAYS.  UZBEKISTAN CONTINUES TO MAINTAIN INTERNATIONAL ENTRY RESTRICTIONS AS OF OCTOBER 23. ALL INTERNATIONAL ARRIVALS ARE LIKELY TO BE ASSESSED FOR COVID-19 AND COULD FACE MANDATORY ISOLATON IN A GOVERNMENT FACILILITY IF THEY DISPLAY SYMPTOMS.  AUTHORITIES COULD REIMPOSE, EXTEND, FURTHER EASE, OR OTHERWISE AMEND ANY RESTRICTIONS WITH LITTLE TO NO NOTICE DEPENDING ON DISEASE ACTIVITY OVER THE COMING WEEKS. 
Note: this page contains basic risk information. For more details, please contact the Risk Services Office at risk@berkeley.edu.
If you are traveling to Uzbekistan on University-related business, please sign up for the University's travel insurance program by going here. For more information on the travel insurance program, please go here.
Because everyone's health is unique, we suggest seeking the advice of a medical professional before traveling internationally. Members of the campus community interested in protecting their health while abroad may schedule an appointment with the University Health Services International Travel Clinic.   
The geopolitical threat is moderate in Uzbekistan. Uzbekistan is a presidential republic in which presidential elections take place every five years, though they are not recognized as free or fair by international observers. The current administration is adequately stable; the state maintains tight and repressive control of all institutions and communications effectively precluding political challenges to the current government. Uzbekistan must deal with issues endemic to its region in the form of Islamic extremism, terrorism, and drug smuggling, however the forceful responses from state apparatus mean that this is unlikely to destabilize Uzbek administration.  Uzbekistan is moderately affected by regional developments, such as the threat of Islamist-inspired militancy and regional border disputes.   
Crime generally poses a moderate threat in Uzbekistan. Petty crime is an ever-present threat globally, but in Uzbekistan, other criminal threats include assault and property theft. Criminal activity is most prevalent in urban and tourist locations, particularly in bazaars such at the Chorsu Market and in impoverished areas of Tashkent including the Sergeli, Chilanzar, and Hamza districts.  
The trustworthiness, capabilities, and responsiveness of security services in Uzbekistan are generally poor. Crimes are better reported to one's embassy than local law enforcement. Police officers are typically unable to speak foreign languages other than Russian.   
The prevalence of violent demonstrations and/or anti-foreign sentiment in Uzbekistan is low. Potentially dangerous protests are most common in Tashkent and Andijan, and along highways. Authorities typically disperse protests quickly.   
The threat of terrorism is low in Uzbekistan. No specific threats exist, though Uzbekistan has historically seen activity by the Islamic State-linked Islamic Movement of Uzbekistan (IMU), Al-Qaeda, the Islamic Jihad Union, and the Eastern Turkistan Islamic Movement (ETIM).   For most foreign nationals, the threat of kidnapping in Uzbekistan is low; kidnappers are more likely to target locals.   
Legal/Political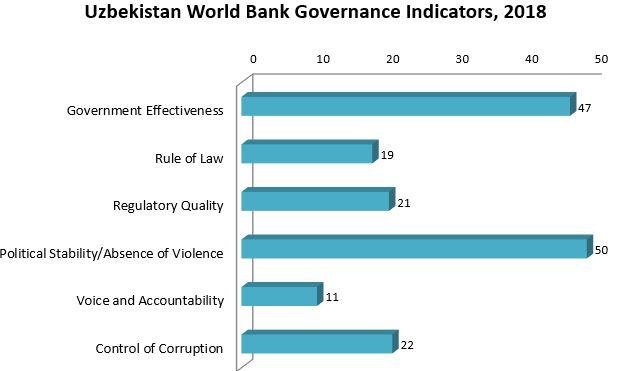 Criminal Penalties: You are subject to local laws. If you violate local laws, even unknowingly, you may be expelled, arrested, or imprisoned. Furthermore, some laws are also prosecutable in the U.S., regardless of local law. 
Arrest Notification: If you are arrested or detained, ask police or prison officials to notify the U.S. Embassy immediately. 
Illicit Narcotics and Alcohol: Penalties for possessing, using, or trafficking in illegal drugs in Uzbekistan are severe, and convicted offenders can expect long jail sentences and heavy fines. As of December 15, 2018, Uzbekistan started allowing the blood alcohol concentration (BAC) of 0.3 for drivers.
Photography and Drones: Taking photographs of military or security installations or other locations of strategic significance (ministries, border and other checkpoints, bridges, tunnels, reservoirs, mountain passes, , etc.) is generally prohibited in Uzbekistan, although these regulations have been somewhat relaxed since 2018. Obey all signs restricting photography and remember that the absence of such a sign does not mean you may take a picture. The personal use of drones in Uzbekistan is generally prohibited by the Government of Uzbekistan's Ministerial Cabinet Decree #287 (Dated 31 August, 2016).
Financial Transactions: Most transactions are conducted on a cash-only, local-currency (soum) basis. Credit cards are accepted only at the main hotels and a few shops and restaurants, and traveler's checks can be cashed into dollars at the National Bank of Uzbekistan. The commission fee is two percent. Old U.S. bills (prior to 1997) and/or those in poor condition (with tears, writing, or stamps) will not be accepted.
LGBTI: Sexual relations between men are against Uzbek law and punishable by up to three years' imprisonment. The law does not specifically address same-sex sexual activity between women. Same-sex sexual activity is generally a taboo subject in Uzbek society, and there are no registered LGBTI organizations.