Personal Safety
AUTHORITIES IN VENEZUELA WILL LIKELY ENFORCE THE NATION'S EXISTING "7+7 PLUS" CORONAVIRUS DISEASE (COVID-19) RESPONSE PLAN UNTIL THE END OF NOVEMBER.  THE BAN ON MOST DOMESTIC AND INTERNATIONAL PASSENGER FLIGHTS HAS BEEN EXTENDED UNTIL FEBRUARY 11, 2021; ONLY FLIGHTS TO AND FROM MEXICO, DOMINICAN REPUBLIC, IRAN, TURKEY AND MORE RECENTLY PANAMA, HAVE BEEN AUTHORIZED. ALL PASSENGERS ENTERING VENEZUELA MUST PRESENT A NEGATIVE COVID-19 TEST TAKEN WITHIN 48 HOURS BEFORE ARRIVAL. OFFICIALS HAVE PERMITTED REPATRIATION FLIGHTS FOR VENEZUELAN CITIZENS FROM ABROAD. ALL LAND BORDERS REMAIN CLOSED. ALL MEASURES ARE SUBJECT TO AMENDMENT AT SHORT NOTICE. AUTHORITIES MAY REAPPLY OR FURTHER EASE RESTRICTIONS WITHIN THE FLEXIBLE PERIODS DEPENDING ON LOCAL COVID-19 ACTIVITY. 
THE U.S. STATE DEPARTMENT ISSUED A DO NOT TRAVEL ADVISORY FOR VENEZUELA EFFECTIVE DECEMBER 2, 2019 DUE TO CRIME, CIVIL UNREST, POOR HEALTH INFRASTRUCTURE, KIDNAPPING AND ARBITRARY ARREST AND DETENTION OF U.S. CITIZENS. TRAVELERS TO VENEZUELA ARE URGED IN THE STRONGEST TERMS TO CONTACT RISK SERVICES AT LEAST TWO WEEKS PRIOR TO DEPARTURE TO MAXIMIZE PERSONAL SAFETY.
Note: this page contains basic risk information. For more details, please contact the Risk Services Office at risk@berkeley.edu.
If you are traveling to Venezuela on University-related business, please sign up for the University's travel insurance program by going here. For more information on the travel insurance program, please go here.
Because everyone's health is unique, we suggest seeking the advice of a medical professional before traveling internationally. Members of the campus community interested in protecting their health while abroad may schedule an appointment with the University Health Services International Travel Clinic.    
Geopolitical threat is considered severe for Venezuela. Venezuela has a history of instability and remains prone to periods of civil unrest and destabilization. The country has a federal presidential system, and the president wields a significant amount of power. The current president is Nicolas Maduro of the United Socialist Party of Venezuela (Partido Socialista Unido de Venezuela, PSUV). Maduro was first elected in April 2013 after the death of the long-serving former president, Hugo Chavez. Maduro was re-elected after the country's May 2018 presidential election, which saw the lowest voter turnout in Venezuela's democratic history (46.07 percent). The election has been largely dismissed as illegitimate by the international community.  
The country is facing a severe economic crisis due to low oil prices, which has affected the country's cash flow. The crisis and associated shortage of basic commodities have translated into increased anti-government sentiment and opposition protests. Maduro's inauguration of the controversial National Constituent Assembly (ANC) in August 2017, a likely attempt to undermine the opposition, has served to increase political tensions in the country; the ANC maintains the power to rewrite the country's constitution.  
Combined with the ongoing economic crisis, conditions are set for a possible deterioration in the political situation, and an increase in the civil unrest threat through 2018. US sanctions on individuals aligned with Maduro have so far been unsuccessful, though pressure on Maduro and other leaders from within the party could increase. The threat of an internal schism or a coup is considered high. Venezuela's short-term political outlook is uncertain.  
The capabilities and responsiveness of security services in Venezuela are generally poor (risk is high). Although Venezuela has a number of different security forces, the state police and National Bolivarian Police (PNB) are likely to be the most relevant for foreign nationals and local staff. The Bolivarian National Guard of Venezuela (Guardia Nacional de Venezuela) generally serves as the gendarmerie and performs civil defense roles; however, it has also been used to combat drug trafficking, extortion, and kidnapping. Police officers are typically unable to speak foreign languages. Security services in Venezuela are underfunded and lack professional training. Many police officers participate in crime, including express kidnapping and extortion, to supplement their income. In Venezuela, foreign nationals should avoid contact with security forces outside of major commercial centers and tourist districts when possible and instead liaise with their diplomatic mission.  
Legal/Political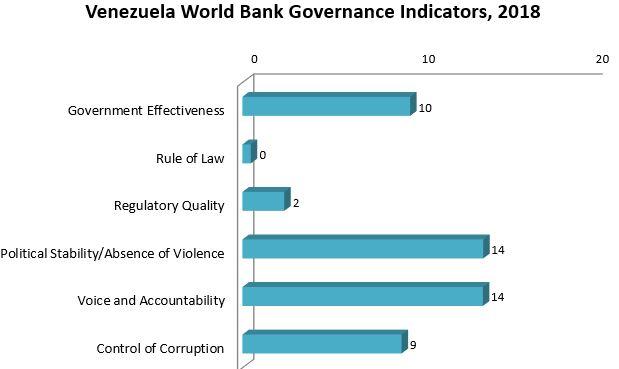 Criminal Penalties: While in Venezuela, you are subject to local laws and will be detained or arrested for violating them.  
In Venezuela, it is illegal to take pictures of sensitive buildings, including the presidential palace, military bases, government buildings, and airports.
Drug trafficking is a serious problem in Venezuela and treated as such by Venezuelan authorities. Convicted traffickers receive lengthy prison sentences, usually eight to 10 years. If you do something illegal in Venezuela, being a U.S. citizen will not help you.
Some offenses committed overseas can be prosecuted in the United States, regardless of local law. 
Consular Access: There have been instances of arbitrary arrest and detention of U.S. citizens in recent years. The U.S. Department of State may not be informed of your arrest/detainment. Due to the suspension of operations of the U.S. Embassy in Caracas, consular visits to detained U.S. citizens are not possible. Consular access to detained U.S. citizens who also have Venezuelan nationality is severely restricted by the Venezuelan government and  consular access may never be provided in these cases. Detainees should not assume they will promptly be charged with a crime or brought before an independent judicial authority. If you are arrested, request that the U.S. Department of State be notified.
LGBTI Rights: There are no legal restrictions on same-sex sexual relations or the organization of LGBTI events in Venezuela.